Birthday gift~
Today had afternoon lesson again~ haha
I really really like this lecturer I tell you
I'm so gonna miss him when he leaves after this week T___T
His lessons are so interesting,
The topic is interesting
And he shows us alot of funny videos too~
And he showed us alot of those weird signboards too~
I literally laugh until I almost died haha
One of the funniest that made the biggest impression on me is this sign that was found on the golf course
And this is the sign: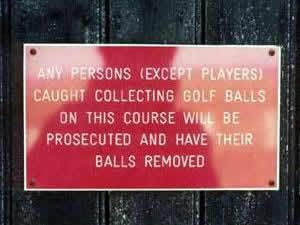 HAHAHAAHAHA DAMM FUNNY RIGHT OMGOMGOMG
HAHAHAHA
My reaction was damm cham when I saw it
And I totally cannot stop laughing after that
It's like when Koichi heard Tsuyo said 'BEAR~'
Hahaha
And there were a lot of other signs that were like this too
So the whole lecture hall was just filled with laughter
I'm so gonna miss him T____T
And after that met my mum at JP for dinner
Went to eat PepperLunch again HAHA
And YES I ATE THAT SALMON PEPPER RICE AGAIN LOL
Omg I tell you its really nice!!
You guys should go try it! LOL
Since I dont eat beef I don't really care how nice their beef is LOL
So if you're like me who don't eat beef,
You should go eat the Salmon =DD
Tomorrow I am going to eat lunch with my mum again too~
And yay Im gonna eat PepperLunch again LOL
But this time I wanna go try the prawn carbonara thinggy haha
Because the couple sitting beside us was eating it and it looked so delicious T___T
I am already starting to drool~
Ok as you guys know~
Some of you for that matter~
My birthday is this coming Sunday~ haha
I didn't want to mention it here but because something happened
And I wanted to talk about it so I had to mention it LOL
Just now my mum came into my room
And she said that since this Sunday is my birthday~
She is gonna give me a $50 budget and I can ask for any gift I want
So of course KinKi Kids is the 1st thing that came into my mind hehe
And so I went to check my shopping cart at Play-asia
And look at it~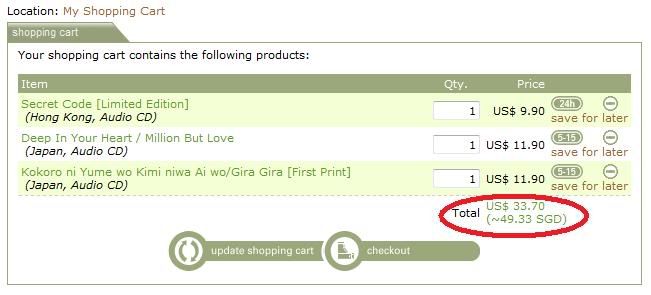 OMGOMGOMG LOL
Cannot believe it right???
HAHAHA
The 3 things total add up to just nice $49.33!!!
Less than $50 somemore~ hehe
Thanks mummy!!!
Love you~~ =DD
Hahaha one more list of things to cross out from my wishlist~ ^^
But still there are still many many more
*looks at the neverending singles cover*
Will be getting a part time job soon though
Hopefully by then I will be able to support my fandom better =D
Without having to owe anybody money ^^
With that I'm going off~~
Ciao~~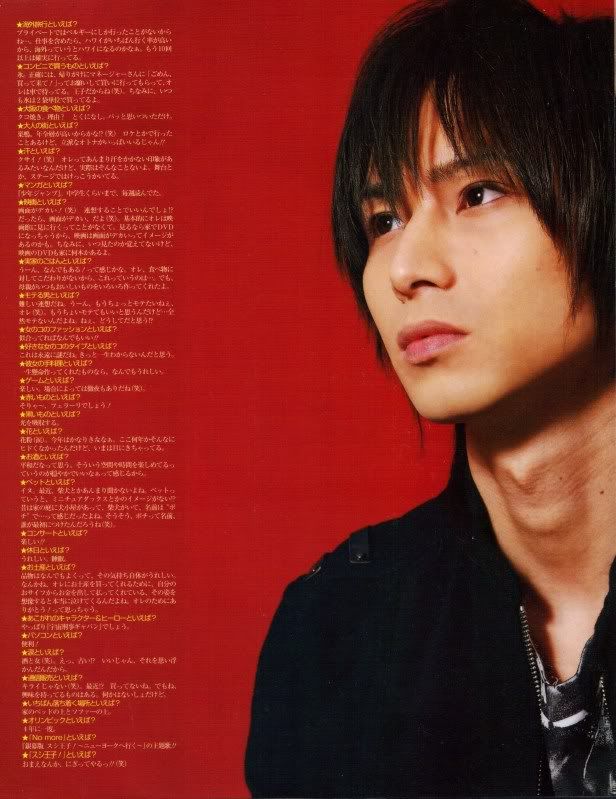 As much as I try to resist,
I still lose T____T
Yay~~~ a very nice picture of Kochan
With his very very delicious neck =XX
Look at the adam's apple~~ wooooooooo
Labels: Koichi, Random, Thoughts
blogged @ Tuesday, August 18, 2009 10:42:00 PM