To all my dear dear friends~
I just read an entry from Vanilla7 just now
When I saw a new update I was quite happy
I couldnt read the contents cus I was still drying my hair
But when I read the entry
Let's just say I almost cried T____T
Vanilla7 take care yea??
Sometimes it really sucks to know that we are so far apart
It's like when things happen there is just so limited things I can do for you
Not just you, but my other beloved friends from livejournal as well
From time to time,
I will think and ask myself
"Is there anything that I can do for them?"
"Is there anything I can do to cheer them up when things get tough?"
Like what BambooBranch said,
I am easily cracked up,
I am easily contented, and I am easy to please
That is very true
But because of that,
I get easily affected too
When unpleasant things happen
Even though it's none of my business
It can affect me loads...
I always mention that whenever I feel down,
Seeing mails makes me happy,
Reading them makes me happier,
I wonder what will actually make you guys happy
Is there anything that I can do to cheer you up?
Writing this entry,
I don't even know what I want to put in..
All I know is I just want to tell Vanilla7
No matter what happens,
Do know that it will always be over
Bad times don't last,
Strong people do!
Quoted from Domoto Mode book,
Written by Koichi,
Drawn by Tsuyoshi,
Translated by BambooBranch,
"Every time when we wake up, we will be reborn"
"Even if there are times when we break down, tomorrow will come for sure"
I know you might have read this before,
But still I feel that this is really encouraging~
From time to time when I'm down I will look at it too~
So I hope it helps na~~
Not just to Vanilla7,
To all my friends out there,
Whether you are from Singapore or overseas,
Whether you are my real life friend or my KK fan friend
I love you guys~
No matter what happens,
Somehow, I pray that I will be there for you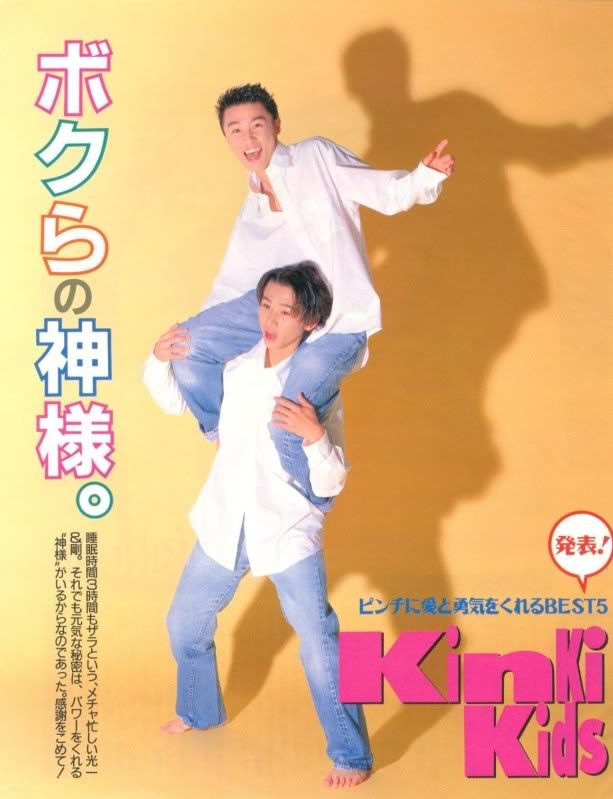 That's because we'll always be there to support each other right? ^^
Labels: Bamboobranch, Kinki Kids, Thoughts, Vanilla
blogged @ Friday, September 18, 2009 1:26:00 AM