Very beautiful art~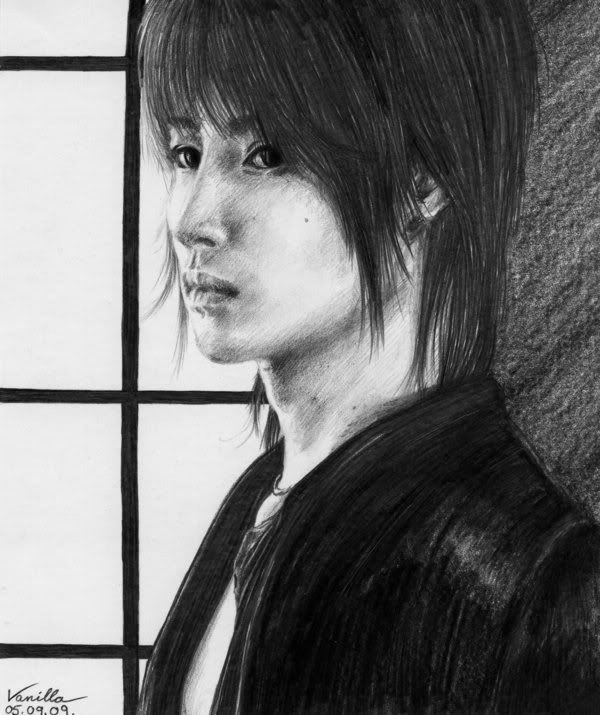 This was done last night. And finally...
I somehow overcome my art block! I'm actually happy how this turned out!
It's just such a small thing (not even bigger than A5!) but at least it's a start, right?
Almost forgot: this is for Virgopalz ♥: Her comment gave me some motivation to draw again. Thank you.
Domoto Koichi - KinKi Kids ♥
~Vanilla777
Yes yes I am updating in the middle of my lecture again~
But when I signed in MSN during lecture today~
I was quite sad to see only 1 new email~ T____T
But when I clicked inside I was happy cus I saw Vanilla7's name LOL
Which means yayy~~
Long long comment to read again~ LOLOL
And yeaa she told me that she drew this yesterday~
And when I went to see
OMG IT IS SOOOOO NICE~~
AHHHHH I wish I can draw humans like that~ T___T
I can only draw like Animes and stuffs and I suck at drawing things which look so lifelike~ LOL
Yeaa she's good right!! LOL
And she said that it's for me too~
Omg ureshii~~ T______T
Once again it gave me motivation to go on with my day even though I had sucha bad start~
Arigato~~ ^^
Hahaha sadly I'm still having flu even though I already slept and woke up~
And yeaaa it sucks
I still have work later
I hope later during work it will stop
Pray for me na~ T____T
Ok time to pay attention to lesson now~
Ciao~ ^^
PS: I finally reached home and my computer can get the full sized picture so yeaa
I wanna show everyone the big and nice picture that was given to me by dearest Vanilla7!! =DD
And HAHAHA!! Yiting I'm sure Vanilla7 will be damm damm happy to hear you say that LOL
OMG I tell you her Reita rocks HAHAHAHAHA
She draw until AHHHHHHHHHHHHHHHHHHHHHHHHHHHHHHHH
LOL
And I search her DeviantArt NO URUHA~~ HAHAHA
NEH NEH NEH~~ lololol =X
Shit I so mean~ hahahaha
T_______T
Will update later haha I have more things to say LOLOL
Labels: Koichi, Random, School, Thoughts, Vanilla
blogged @ Monday, September 7, 2009 8:51:00 AM