Endless SHOCK
Yes I know that was supposed to be my last entry to today~
But I cannot help it
After getting the Endless SHOCK soundtrack for a few days,
Today is the 1st time I actually went to listen to it
Apart from the songs that I already knew, like Yoru no Umi, In the Cemetery and the others,
There are actually a few instrumental parts of the musical that was included..
And when I was watching the musical,
Because of all the talking and action and shouting,
I totally never notice much about the background music
Cus all I could hear was Koichi's voice =X
Now that I am finally able to concentrate and listen to the music,
I realized that OMGOMGOMGOMGOMGOMG
IT IS SPECTACULAR!!!!
The traditional Japanese music (which is what I totally love btw)
The grand feel of the music
Just the awesomeness of the music makes me OMGOMGOMG
HOW CAN I NOT NOTICE ALL THESE MUSIC AT ALL?!?!?!
And so a new batch of songs are going to be added into my phone =DDD
It's nice nice nice nice nice
Which also makes me sooooo angry!!
Because there's this particular track called The Battle,
And it sounds much much much too similar to the theme song of Pirates of the Caribbean,
So someone actually made a comparison on Youtube,
Of course you can see that there are various comments on it..
No matter who copied who,
I believe this is not really a problem of copyright since neither party made any fuss about it..
But what made me angry was when Eliza told me that someone actually commented this
"Ohh..I checked, it's just a musical"
What....the...FUCK?!?!?!
JUST A MUSICAL?!?!?!
Screw you!!
Endless SHOCK is anything BUT JUST A MUSICAL!!
There is flying~~ There are fighting,
There's dancing, Grand stage, big effects,
Not to mention Koichi falling down the stairs
If you think that Endless SHOCK is JUST A MUSICAL then why dont you try finding another actor in another musical or even your favorite movies and see if anyone has ever fallen down the stairs 600++ times before!!
Just because you don't know anything doesnt give you the right to belittle it ok!!
Hate it when Koichi's efforts are being negated so easily like that!
You guys may think I am being exaggerating here, but still..
ARGH~ Screw those idiots! HAHA
Guess this is what happens when I am super tired and yet still am not sleeping
LOLOLOL
Some awesome pictures from Endless SHOCK
Credits to
Her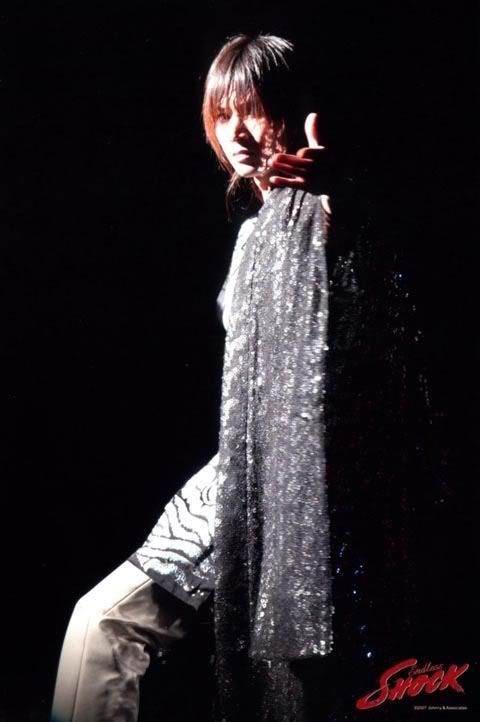 Love it when he wears the haori~~
In case you don't know,
The ladder is suspending in MID AIR
And yes look at his arms and body,
There is no safeguard..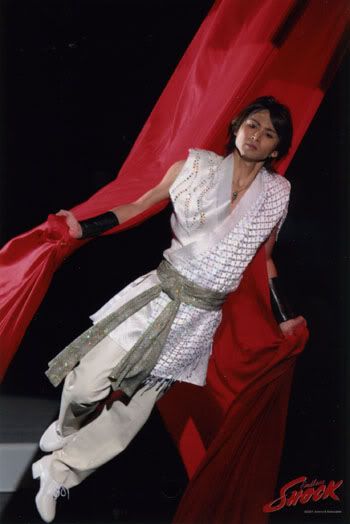 Flying again~
Yes his arms are just tied with the cloth and that's it
He flies~~
LOLOL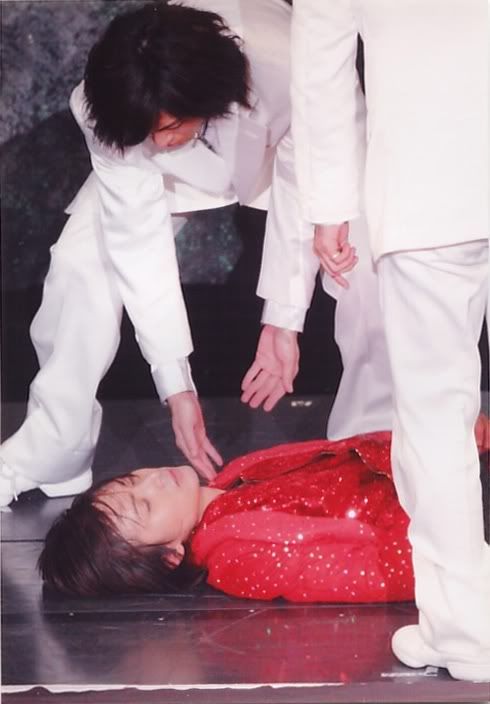 Funny how as this picture is shown, Yoru no Umi is playing HAHA!!
Yeaa after he sang Yoru no Umi he 'died'
How can anyone look soooo beautiful when they 'die'
LOL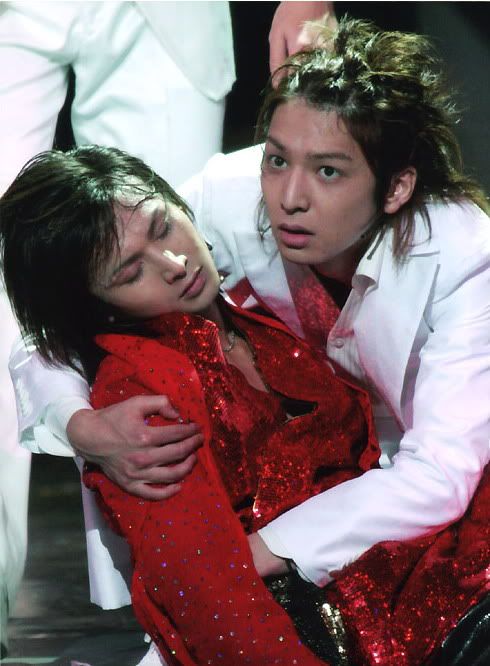 Closer look~
YES BEAUTIFUL~~~ T___________T
I soooo got to see this in real life version!!
Yes I know I need to sleep,
So last picture to end off~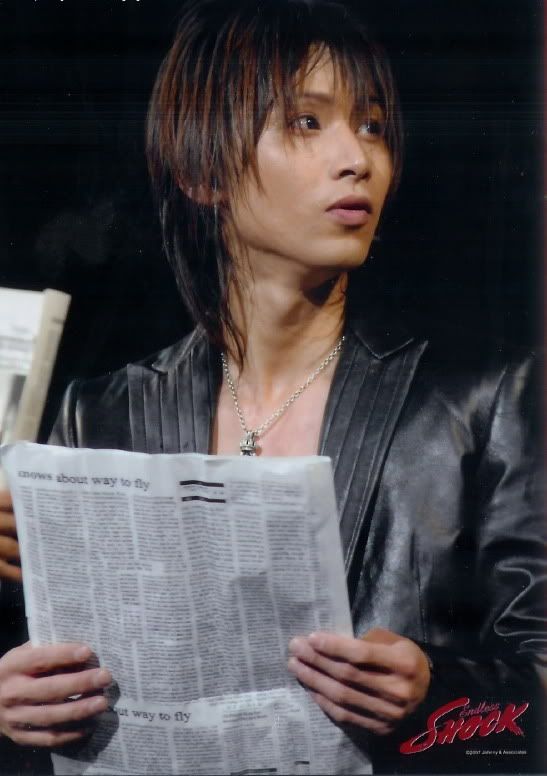 THIS IS JUST SOOOOO CUTE!!!
ARGH CANNOT TAKE IT!!! LOLOL
Okok I am going off ciao~~~~
Labels: Endless SHOCK, Koichi, Thoughts
blogged @ Friday, October 2, 2009 2:03:00 AM