Endless SHOCK 2010
I know you guys have seen this like 10000000000000000000000000 times already~
But I went to since1997 just now and I found the nicest shot of the poster ever!!
It's so omg la just this morning when I was looking through I was thinking
"walau such a nice poster can't someone just take a direct shot of it?!?!"
And tonight coming back from a long day at work~
I saw this at since1997!!!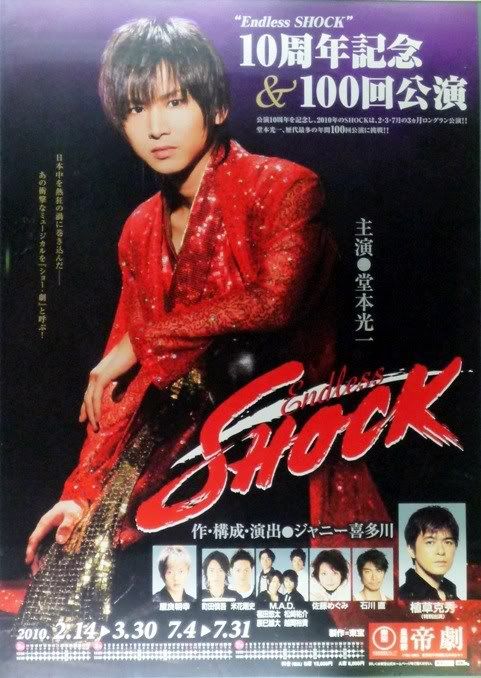 OMGOMGOMGOMGOMG
A DIRECT SHOT!!!
KOICHI YOU REALLY CAN HEAR ME CAN'T YOU?!?!?!
LOLOLOL
Ok I know I'm mad but it's always coincidences like these that makes me feel that Koichi can hear me =XX
HAHAHAHAHA
Isn't the poster nice?!?!
If this ever is on sale I will make sure I get one of those!!
I mean omgomgomogmg!!
YORU NO UMI COSTUME ON KOICHI IS WIN!!!
KOICHI IN YORU NO UMI COSTUME IS WIN TOO!!
This is like by far the nicest Endless SHOCK poster I have ever seen already~
Yes Yuanshan you know that poster is going to be yours one day
If anyone is actually selling it LOLOLOLOL
And it sucks really bad because I smsed CK, the guy from my workplace just now~
And asked him about RMIT holidays~
And i found out that none of the dates for SHOCK nor solo con would fall on my school holidays
USO DESHO!?!?!?!?!
NOOOOOOO!!!
Omg I mean I'm not sure how accurate the information is for my school holidays~
But it at least has got to be 90% accurate!
And now I have another big problem~~~~
Should I skip school for one or 2 days????
And then watch SHOCK?!?!
I think if I get to choose I really would want to go for SHOCK rather than the solo con~~
Am I weird?? Am I? Am I??
Somehow I feel that SHOCK is more worth going~~~
Don't worry Emily when the time comes I will still follow you to Japan and watch again!! =DD
But yeaa~~
For now I'll just get the money 1st man~
Koichi if you can hear me~~
Use your power and make everything fall in place ok? T____T
Hahahaha =XX
Ok la I have some Halloween pictures from yesterday~
But I'll update that later I guess hahahaha
Ciao~ ^^
Labels: Endless SHOCK, Koichi, Thoughts
blogged @ Sunday, November 1, 2009 10:33:00 PM