Isn't Koichi just the cutest thing ever??
Well today at work was quite alright,
Cleared the storeroom abit,
And just when I finally cleared a walkway path,
THE DELIVERY GUY CAME!!!
And here comes another 2 boxes of T-shirts
I could've sworn t-shirts are like my 天敵 now LOLOL
天敵 = ultimate enemy/natural enemy LOLOLOL
If I were to asked in Domoto Kyoudai what is my 天敵 I confirm plus chop will say t-shirts! HAHAHA
Then Koichi will give a weird confused look on his face LOLOL
Anyway when I went to work this morning the fire alarm suddenly started sounding,
And I was changing halfway and I was like "omg wtf is going on?!?!"
Somemore there's an announcement which says "the fire alarm has been activated, we are investigating the source now, meanwhile please do not panic" or smth along that line la~
But the thing is, I HATE THIS KIND OF ANNOUCEMENTS!!
Those that sound very very official cus well,
It just sounds scary T____T
So I hurried and got out of the dressing room without changing my top LOL
Only my pants HAHA I was still wearing my t-shirt and I asked my supervisor what is wrong
And he just gave a very sian look and say "nothing its ok~" HAHAHAHA
Ok enough about work~
Tomorrow I am going to get my B=PASS!!!!
YAY YAY YAYY!!
Since I am afternoon shift tomorrow,
I shall reach kino at 10am MUHAHAHAHAHA
and get my magazine and then head off to work =DDDD
Yay!!! GACKT HERE I COME!! KOICHI HERE I COME!! HAHAHA
Ok ok to my main point now!!!
KOICHI IS VERY VERY CUTE!!!
Ok there's this part where Ken san, the guest,
Is talking about playing Ai no Katamari during KinKi Kids 39 concert,
And then he say that he has Koichi's demo tape LOL
A demo tape is when he 1st sent to the Johnnys for an audition,
So having a 15-16 year old voice,
You can totally imagine how that demo tape will sound like
(JUST GO LISTEN TO BOKU WA OMOU HAHAHAHAHA!!!)
And Koichi's reaction is PRICELESS!!! LOLOLOL
So I specially subbed that part just to show my cute Kochan hehehehehe
PS: HE'S SOOOO CUTE RIGHT!! LOLOLOL
He's like in a panic mode or smth! LOLOLOL
OMG la I feel like kissing him HAHAHAHA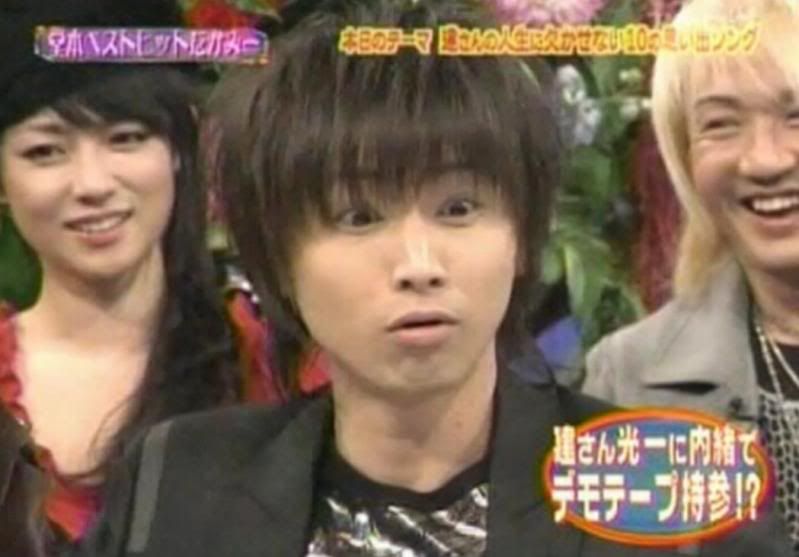 The face he made hahaha
ISN'T THIS JUST THE CUTEST FACE EVER!??!?!?!
OMG THE LIPS HAHAHAHA
I SO WANT TO KISS THAT!!!! LOLOLOL
Oh my Kochan AITAI DESU!!!!!! T______________________T
Ok going off to sleep now
Gotta wake up early again tmr
ARGH!!!
THIS GIRL HAS NO LIFE!!!!!!!!!! LOLOLOL
Anyways my friend has a blog shop, and the clothes she sells are gorgeous!!
No kidding!! Do take a look
HERE
and check it out!!! =DDD
And if you wanna know, the blog is under the link Hilary's Blogshop at my links corner =D
Labels: Koichi, Thoughts, Work
blogged @ Thursday, November 19, 2009 12:07:00 AM