メセージ
イライザへ:
泣かせてごめんね。。
昨日は。。ぜんぜん知らなかった。。
あなた泣いたの時本当に吃驚した。。
でもその時何も出来なかった。。
若し何か出来れば本当に良かったな。。
ごめんね。。T____T
何かあったら良く解らないけど。。
でもそれは絶対忘れないで。。
皆ここにいるよ。。
ずっとそばにいるから。。
あなた悲しいの顔見せたくない。。
笑えね~^^
ひとりじゃないから。。。
それより。。
今日のバイト君はいなかった。。
本当に寂しいかった T_____T
*hugs*
Sorry for this post for those who can't read it
There won't be any translation cus its just something I wanna tell to a friend
I guess watching Endless SHOCK in the middle of the night just makes me sooo emotional
When I'm watching the part when Koichi realized that he's actually dead,
Somehow as if by magic I suddenly understood what the whole conversation was about
And I couldnt stop my overwhelming emotions,
Before I knew it, tears started flowing down my cheeks..
Maaa I'm too emotional I guess hahaha
That's what happens when I'm in the dark with 40inch flat screen tv with Endless SHOCK T___T
Before I go,
As if by magic I suddenly caught Rika saying this line in SHOCK:
人は見えないの事をつかむの為にずっと前に続けて行く
(For the sake of holding on to the things that can't be seen, people have always continued to move forward)
Urgh I hate how English is never beautiful enough to translate Japanese T_____T
And as I am blogging Endless SHOCK has reached CONTINUE already T_____T
This song written by Koichi is sooo beautiful,
And looking at him 'already died' but still singing with them
Makes me want to T_____T even more
So sorry for my random post na~~
But haiii
Endless SHOCK, such a beautiful show
I want to make sure I watch it~~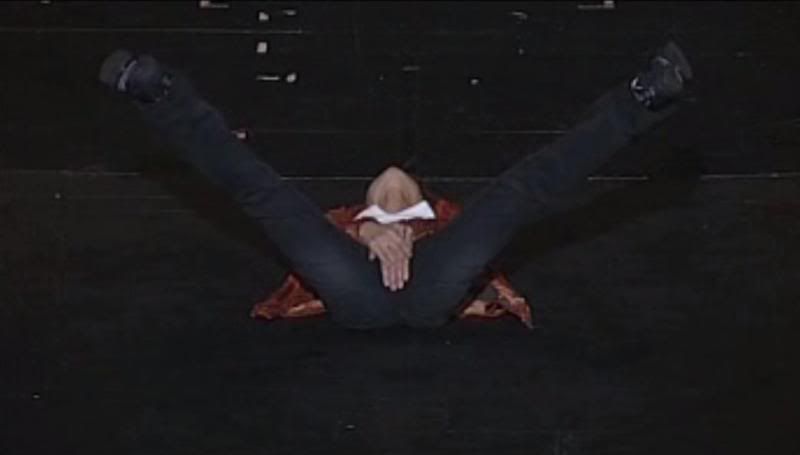 Like I said,
Only on Koichi's stage can you see something as baka as this!!
Hahahaha obscene??
I love it! =D
PS: And yes this is a scene in Endless SHOCK =D
Labels: Eliza, Endless SHOCK, Koichi, Thoughts
blogged @ Saturday, January 9, 2010 1:32:00 AM