And so Koichi says...
Weeee supposed to sleep now but I just had to blog~~~
New new new NEW bigger clearer pictures!! =X
All photos are taken from Johnnys-net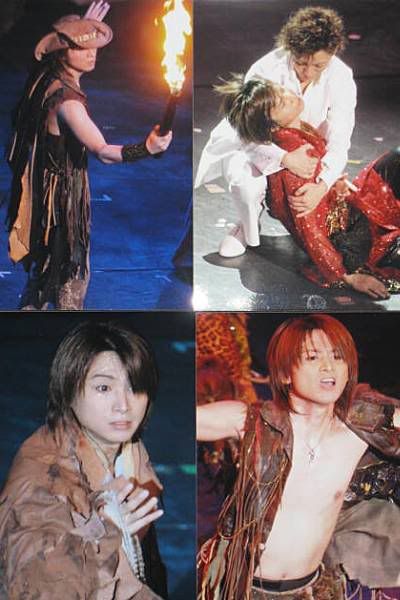 Cool~~~~
Love seeing his naked body =XX
And that Yoru no Umi uwaaaaaaaa~~~
Beautiful~~~~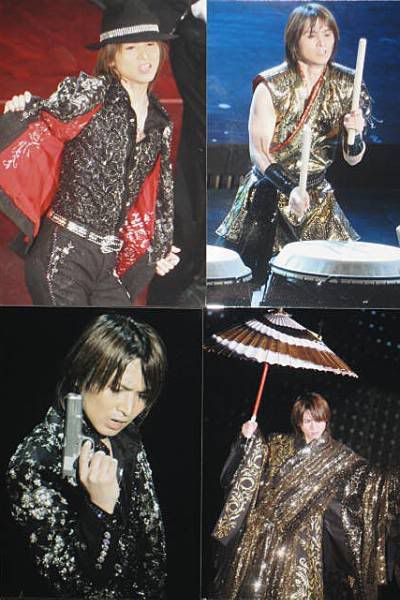 And woot!!! A combo of all the new costumes!!!!
You just have to admit that Koichi loves me! WAHAHAHAHA
He knows that I love black so all the new costumes or changed costumes are black black =X hahaha
THE GUN!!!! UWAAAA I WANT TO SEE HIM SHOOT HIMSELF =X
SO HANDSOME!!!!
DON'T YOU THINK THAT FACE THAT EXPRESSION THAT LOOK THAT POSE IS JUST SOOOOOOOOO HANDSOME?!?!?!?!? KAKKOII!!!!!!
And the umbrella and the drums!!
I can't wait to see his drum routine too!!!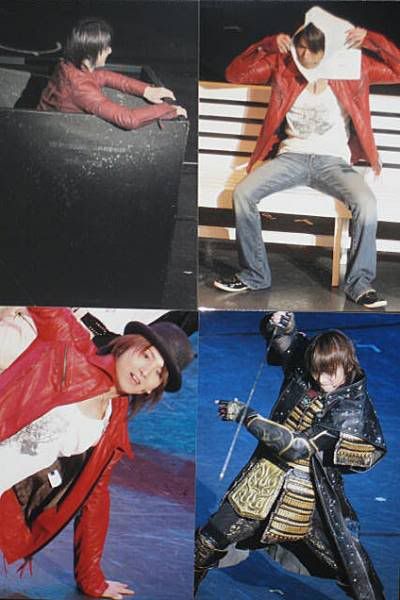 And of course what is SHOCK without our Baka Kochan~ =DD
Totally swoons at all the baka pictures!!
*stares at the picture with a paper over his head* LOLOLOLOL
And Meiyan is so cute!!
Even though she kept saying she's going to sleep
At the very last moment she still showed me this: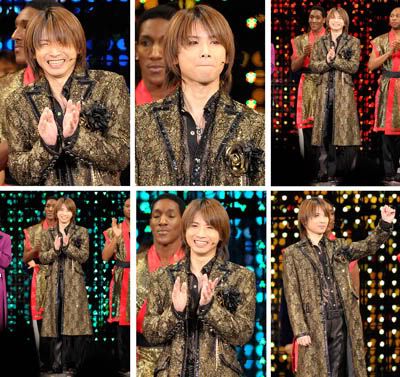 Meiyan me loves you! hahahaha
Uwaaaaaa cute cute cute!!!
*totally talking about the very 1st picture*
Uwaaa will I get to see that face as I watch SHOCK as well? T____T
And thanks to Meiyan,
I found out that next week will be the 1st of March
Which means.....
.
.
.
.
.
.
4 MORE MONTHS TO JULY!!!!!!!!!!!!!!!
Uwaa I can't believe how 2 months ever since December has passed already!!
This year is gonna be an amazing year!!!
But before I jump to July, I have to go through March and April,
With the exams and the assignments..
As well as June where I have to retake my accounting,
Which of course means I have another exam T_____T
After that will be SHOCK SHOCK SHOCK!!!!!
Uwaaaaaaaaaa
Recently I keep having this trend whenever I am working,
Since sometimes the time is slow,
And I keep looking at the clock anyways,
On weekends I will look out for 12pm and 5pm
Why?
Because in Japan it's 1pm and 6pm, which means that SHOCK is taking place!!!
Even on weekdays where there are only 1 show,
I will take note of 5pm, and be like
"Kochan~ gambatte!!!"
And when I'm bored I will be like "Uwaa I bet at around this time Koichi is flying..." or "I bet at this kind of time Koichi is rolling down the stairs"
HAHAAHHA
And time really passes much much MUCH faster that way!! LOLOLOL
So maybe you guys can try it if you're bored =DD
Something coincidental happened too~~~
During lunch I was on MSN telling Ran about this trend that I have,
And to think she actually replied:
"Koichi actually said this before, even though you are not watching SHOCK everyday, please think about SHOCK everyday at 1pm and 6pm."
Seriously?!?!?!
When I heard that I couldn't believe I am actually unconsciously doing what Koichi has actually talked about!!
Uwaaaaa I don't care but I am enjoying this little moment of happiness hehehehehe
"光ちゃん!!私はEndless SHOCKの事ちゃんと思いますよ!!^^"
With that I am going to sleep~~~
One paparazzi photo of Koichi for you!
Taken from Johnnys-net as well
I love his photo though~~~
I love how he look like without any makeup
Yes I am weird =D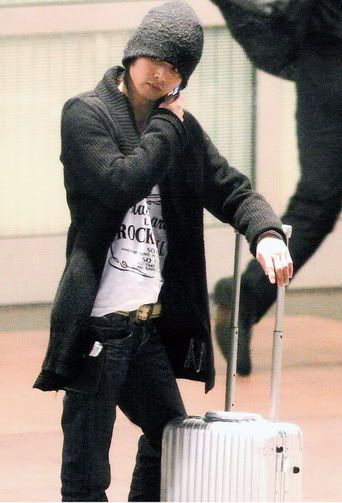 I love how he always wears something black too~~
And that suitcase looks cool~ =X
HAHAHAHAHA
Uwaaa even without make-up cannot put any ugliness into Koichi wahahaha
Alright nights! =D
PS: In case you are reading, MEIYAN ELIZA RAN CHAN VANILLA EMILY I LOVE YOU GUYS!!! =DDDDD
Why? Just random I guess ^^
You guys always makes me laugh like an idiot in my own room, and somehow stopped tears from flowing out from my eyes hehehe
Me loves you guys many many lots =)
Labels: Eliza, Emily, Endless SHOCK, Koichi, Meiyan, Ran chan, Thoughts, Vanilla
blogged @ Tuesday, February 23, 2010 2:11:00 AM