Another new post!! =D I am so high today HAHAHA
Yupp yupp another cut and paste entry
Me is seriously too lazy nowadays HAHAHAHA
Hahahaha because I got too excited and because J Album promo poster is tooo nice~~
I DECIDED TO WRAP MY MIRROR CONCERT DVD PROMO POSTER TOO!!!!!
Hahahaha so I took the time and started wrapping up the poster and hung it up!!!
So my room is practically like a Koichi paradise now!!!!
MUHAHAHAHAHAHAHAHAHAHAHAHAHAHAHAHAHA
I bet you guys want to live in my room now MUHAHAHAHAHAHA
*winks at Vanilla* hehehehehehe
And TADA!!!!!!!!!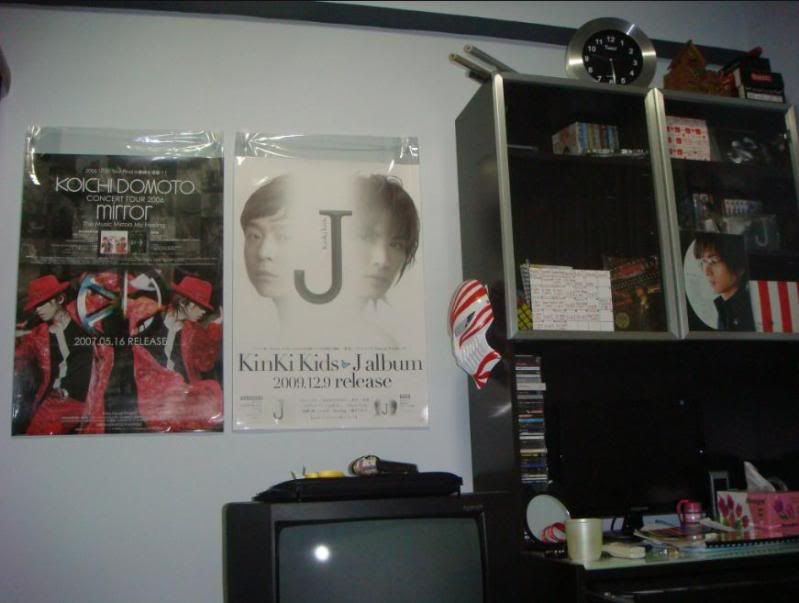 THIS IS MY ROOM!!!!!! =DDDDDDDDDDDDD
Oh my it's sooooo beautiful~~~~
And yes inside of my cupboard is full of KinKi and Koichi DVD and all the concert goods!! =DD
For bleach watchers, I LOVE MY ICHIGO VAIZARD MASK TOO!!!! =DDD
Not to mention that the faces in J Album Promo is soooooo bigggg
I cannot stop staring at Koichi's face everytime I turn my head =XX HAHAHAHAHA
And also the Mirror Con DVD Promo poster is soooooooooooooo kakkoii!!!!!
And it's in black too!!!!
The posters are like in my fav color BLACK AND WHITE MUHAHAHAHAHAHAHAHAHHAHAA
And in case some of you guys hadn't noticed,
The picture of Koichi in Addicted costume looks like a Mirror Reflection but IT'S ACTUALLY NOT A REFLECTION AT ALL!!!
OMG I feel soooo stupid being tricked like that!! >=(
Hahahahahaha it's actually two different pictures lor!!! =XX
But still Koichi since you look so handsome I shall forgive you hehehehehe =X
And with that I feel sooo happy cus everytime I lie down,
This will be my view: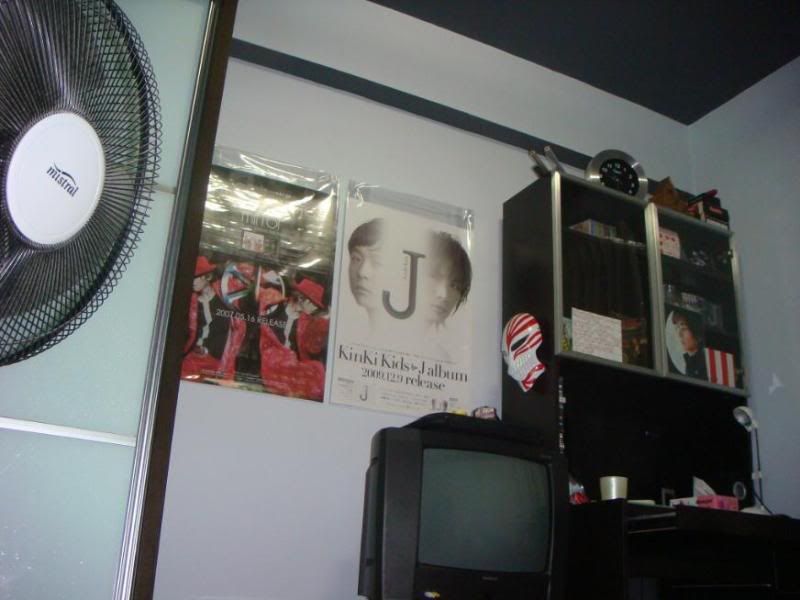 Uwaaa it's no wonder why I am late for school everyday now~~ T______T
And if I look behind, I see this!!!!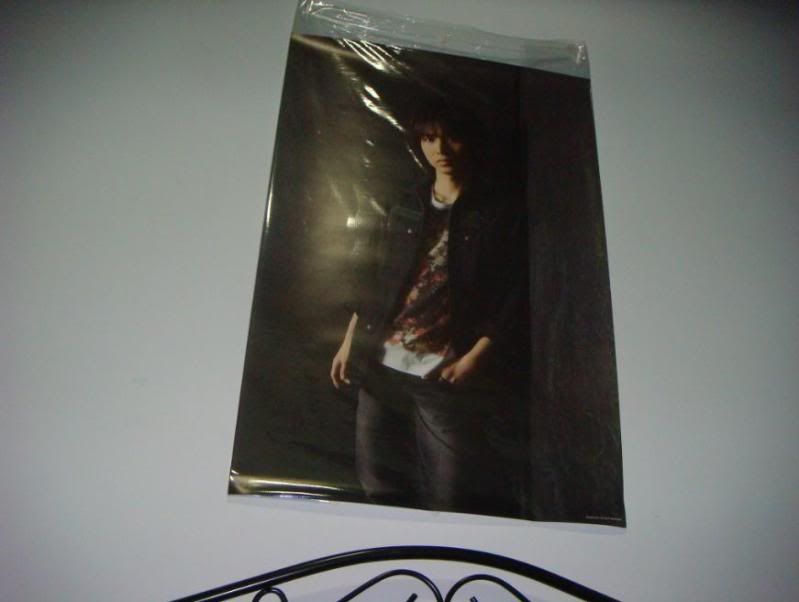 UWAAAAAAAA *_____________*
Can this room be anymore perfect?!?!?!! T____T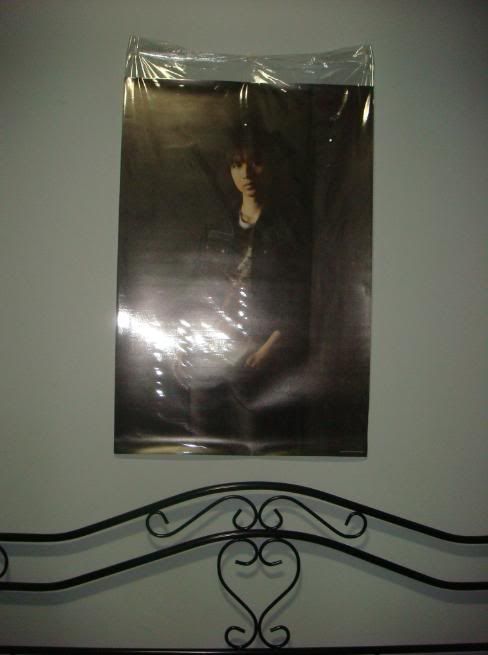 I totally love this poster!!! Sooooo big and sooooo handsome!!!! =X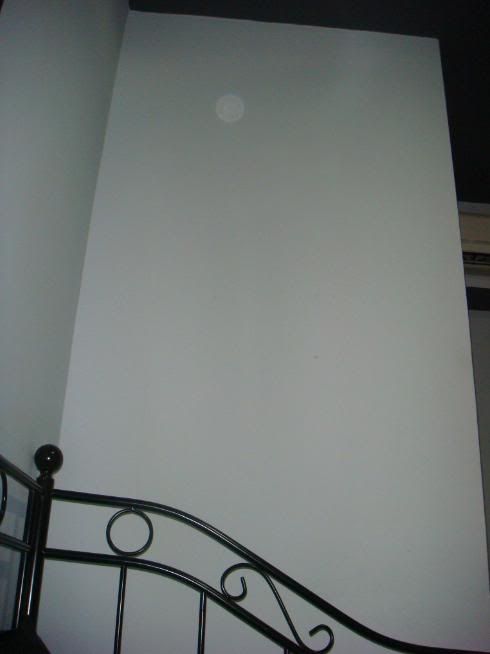 After this gap is filled, my room will be like Koichi paradise!!!! omgomgomgomgomgomogmogmg
But still it's been 9 months and that 1.5m poster that I ordered is still slowly shipping it's way here T_______________T this sucks na~~~~~ T_____T
Yupp yupp me is a very happy girl~~
But wait!
I think after Chinese New Year, I grew FAT FAT FAT!! T_______T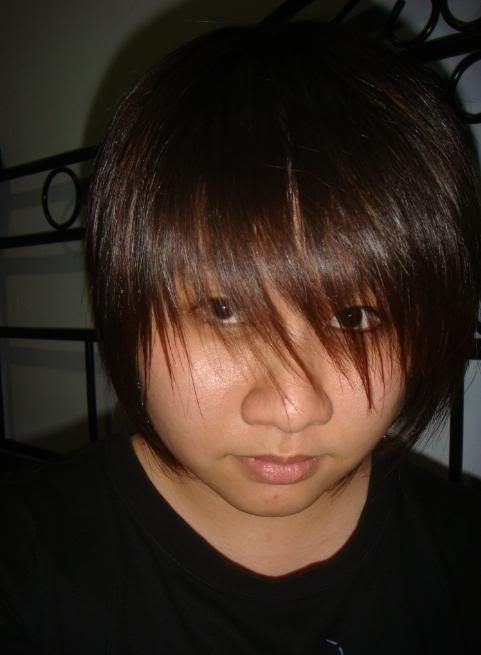 RIGHT RIGHT?!?!
This girl needs to slim down T___T
As well as a haircut T______T
Alright end of random entry =XX
Labels: Kinki Kids, Koichi, Random, Thoughts, Vanilla
blogged @ Wednesday, March 3, 2010 10:49:00 PM