Sarahの頭の中
Haha made a new friend on skype and he asked me to do this thing,
And out of curiousity, I went to try it hahaha
And this is the result: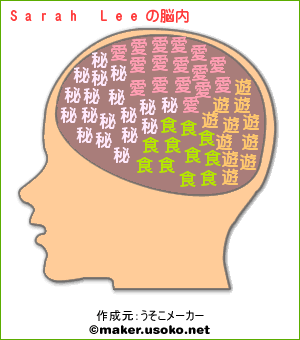 HAHAHA it's pretty much evenly spread out on love, food, fun and secrets..
Ooooo~~~~~~
HAHAHAHA
SARAH HAS SO MANY SECRETS INSIDE HER HEAD LOLOLOLOLOL
But I'm not gonna deny it,
It's true!! I am constantly thinking about Love, Food, Fun and well everyone has secrets~
Maaa but not many will have such a big number like mine..maybe? Oo
HAHAHA
Then I tried doing it with my real name instead,
Which is Lee Yuan Shan, and here's the result: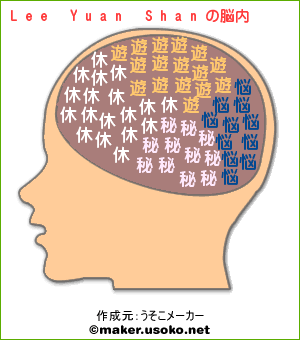 HAHAHAHAHA OMG SO MANY FUN AND REST HAHAHAHAHA
HAHAHAHAHA YUANSHAN REALLY IS THINKING ABOUT FUN ALL THE TIME LOLOL
No wonder this girl hates studying T_____T
HAHAHAHA and yupp I have a lot of 休 which means rest,
Yes I am a lazy girl~~~
A lot of secrets again =X Not telling any! >=)
Yeaa I worry a lot too~~~
Of course I couldn't resist trying out Koichi's name to see what's in his head HAHA
This is the result: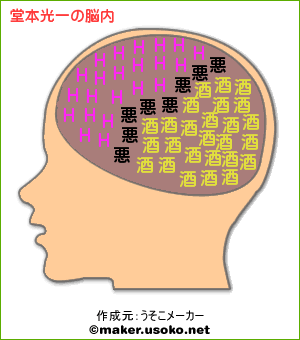 HAHAHAH OMG SO MANY Hs!!!!!!
HAHAHAHAHA
For those who don't know,
H in Japanese is pronounced as "Eh-chi", which is their short form of the word "Ecchi", which means Erotic HAHAHAHA
OMGGGG SASUGA KOICHI!!!!! HAHAHA
This is definitely the Koichi that told the magazine interviewer that 98% of his brain is filled with erotic stuffs HAHAHAHAHA
And ooo there's a lot of Sake(Alcohol) also!!
And a considerable amount of evilness T____T
Is my Koichi evil? T____T HAHAHAHA
I showed Meiyan this and said 'OMG LOOK AT THE NUMBER OF Hs!!!"
Then she's like "Guys ma, of course like that"
Then I said "No leh!! Look this is Tsuyo's result!"
HAHAHAHA OMG THIS GUY IS EVEN MORE AMAZING LOLOLOL
LOOK AT HOW LOPSIDED THIS BRAIN IS HAHAHAHAHA
No wonder all his Jwebs and concert MCs is all about him showing love to us fans hehehehehe LOLOLOL
And there's just a tiny bit of suspicion, secret and being lost.
Hahaha and a bit of money too~ LOLOLOL
And yea with that I end my random post hehehe
Tomorrow stock take!!
Working from 930am to 12am!!!
CRAZY ANOT?!?!?!
PS: Vanilla gomen!! Looks like I will reply you only a few days later~
As you can see I will be missing quite a bit of sleep for the next few days T__T
"Gives puppy black panda eyed look to Vanilla *.*"
Hahaha Minna Oyasumi!! ^^
HAHAHAHAHA!!!!So many on food and
Labels: Koichi, Meiyan, Random, Thoughts, Tsuyoshi, Vanilla, Work
blogged @ Sunday, March 28, 2010 10:50:00 PM