Koichi!!!!! Finally I hear from you!!!
Sorry for disappearing!! I have been working like 30+ hours weekly again and everytime I reach home I just want to lie on my bed and watch dramas =X
I'm sooo freaking lazy that I don't even feel like blogging gomen! T__T
Anyways so just some quick update:
I highlighted my hair!!
Yeaa I know I said that before but now there are pictures!
HAHAHAHA
Alright erm the camera doesnt do my hair justice T____T
Pictures! XD
Yeaa only 3 pictures, didn't camwhore too much =X
In case some of you miss seeing my pretty face *pukes*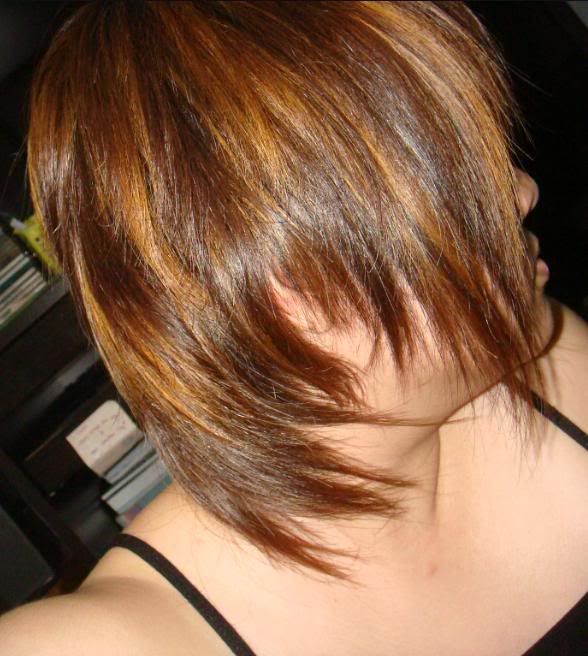 The color of my hair~~~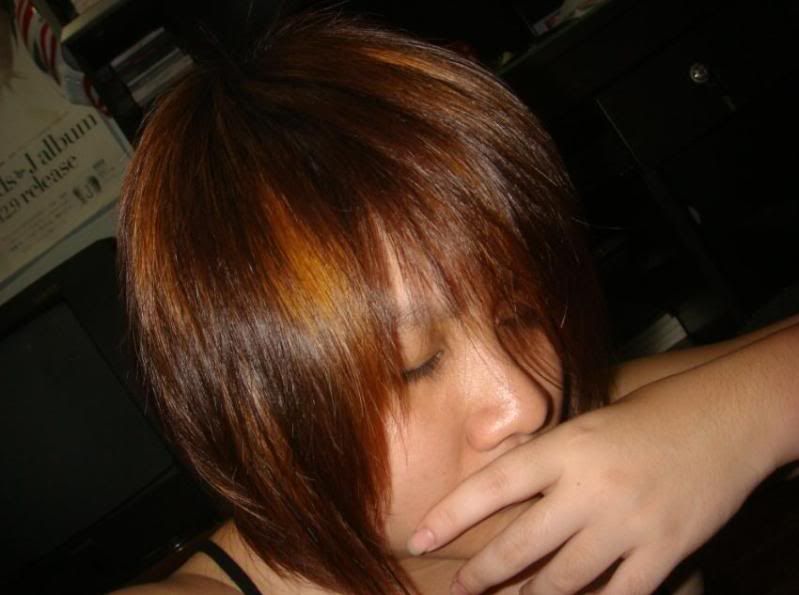 Yeaa tried to act cool ~.~
But I'm so frowning la HAHAHAHA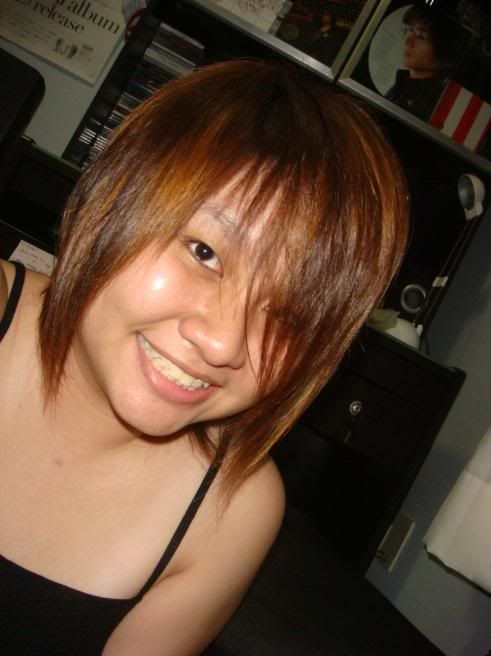 Alright and a little smile XD
Had to work at Hut 7 today again zzzz
Sucks so bad cus it's sooo freaking hot and I HATE HEAT!!!!
No air-con, stuck there alone, tired blah~
Luckily in the evening it started getting cloudy and I managed to get some breeze haha
I saw that our shop had new design for frisbees, and I love it! XD
Cus it's black!!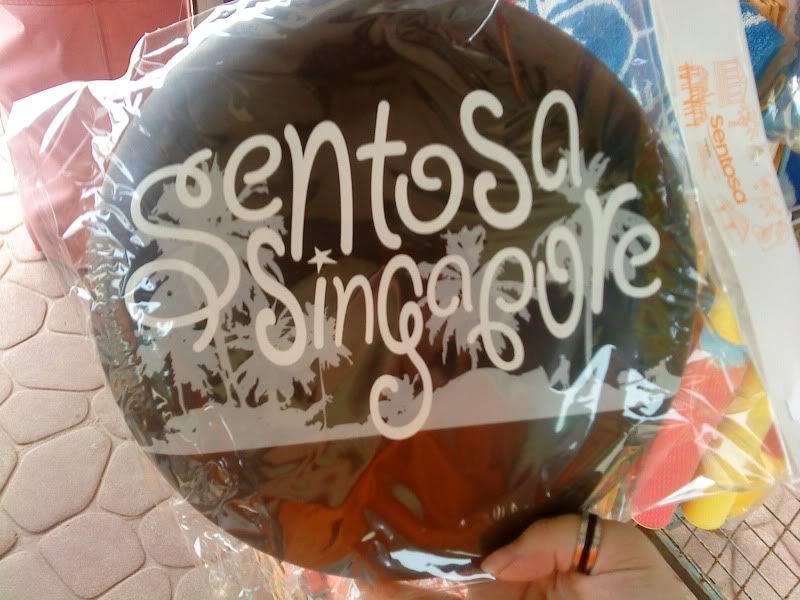 Hora~~ it looks sooo much nicer than the old versions hahaha
I guess I just love things that are black and white =X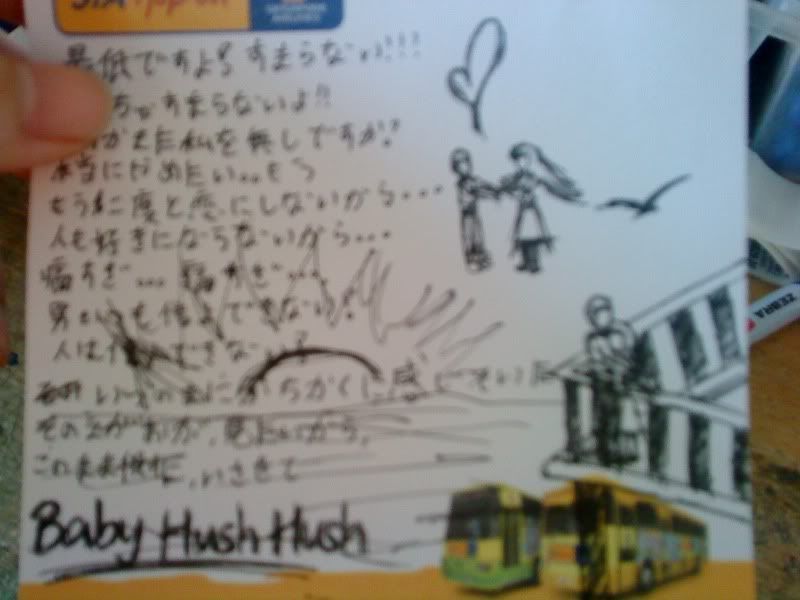 Drew this when I was at the other shop last week,
Yeaaa when I'm bored my mind wanders and I tend to want to draw things out T___T
Hahaha super lousy art though, and I can't draw faces! T___T HAHAHA
The other time I went Resort World with Eliza, (Shall talk more about that next time)
And guess what?
I saw a freaking Ferrari parked outside the hotel,
And best of all, IT'S BLACK!!!!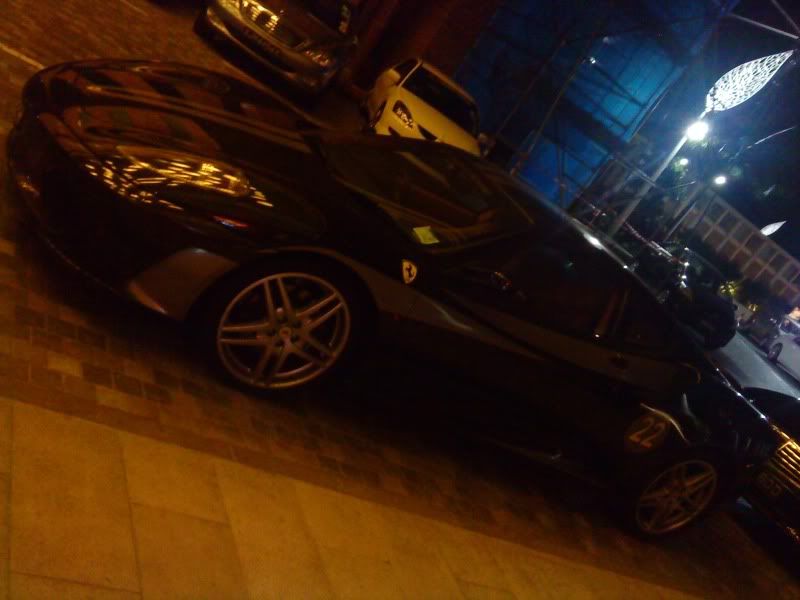 SO NICEEEEEEE
UWAAAA Eliza is so cute lol the moment I finished taking the picture she was like
"はやく!逃げろ!!" (Quick let's run!) HAHAHAHA
As if I did something really evil =/
Alright and finally, KOICHI!!!!!!!!
This was from the F1 newspaper clipping yesterday,
I got this from Johnnys-net haha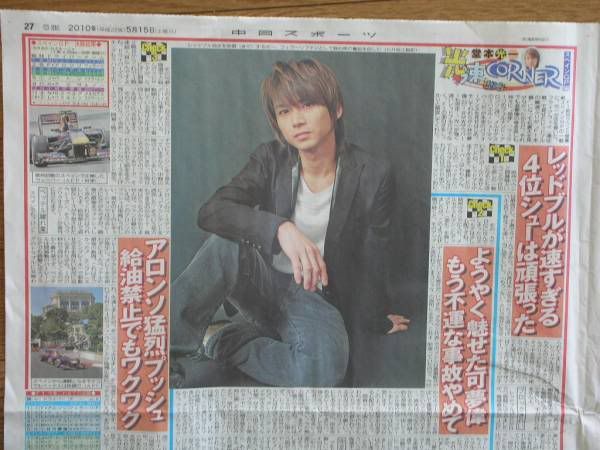 OMG HANDSOME HANDSOME HANDSOME!!!
Like I said, I LOVE HIM SITTING LIKE THAT!!!!!
It's been a loooooooooooong time since I've seen handsome Koichi!! =X
HAHAHA Ok I mean well I just miss him T____T *sobs sobs*
Here's the article:
主演舞台「Endless SHOCK」の2、3月の公演を終えてホッとしたのもつかの間、
光一は第2幕の7月公演へ向けて早くもの始動。
「打ち合わせとトレーニングも少しずつ始めています」と明かす。
まだ1ヵ月半の時間があるが、「さらにいい作品にするために」とサラリ。
進化が楽しみだ。
とはいえ、公演中にはできないことも満喫中で「2、3月は(愛犬)パンを母親に預けていたのですが、
今は比較的時間があるので一緒にいます」。
さらに、「昨年のソロコンサートで『2010年はソロアルバムを作る!!』と宣言したので、
少しずつ曲作りをし始めています」とも。
LOL ok erm I won't be translating the whole article,
But it mainly says that in between the break for Feb and March SHOCK, Koichi has started on moving towards the July SHOCK.
He said that he has started the meetings, as well as a little training,
There's still about 1 and a half months more, "After all, it's for the sake of producing a good performance" and salary (LOL Koichi)
And the person is looking forward to the improvements.
And he has been enjoying the things that he's unable to enjoy when he was doing SHOCK, during Feb and March, PAN was taken care of by his mum (Awww)
And since right now he has more time, he's together with PAN (Awwwws even more)
Furthermore, "Since during last year's solo con, I said: 'In 2010 I will produce a new album!', I have already started creating a few music"
UWAAAAAA KOICHI!!!!
YOU KEPT YOUR PROMISE!!
I KNOW YOU WILL I KNOW YOU WILL BUT STILL I AM SO HAPPY!!!
HAHAHAAH CAN'T WAIT TO HEAR YOUR NEW SONGS!!
I SERIOUSLY MISS YOU SOOOO MUCH!!! T_____________T
Hahaha
This one article is enough to make me sooo happy,
And his current hairstyle color is like his Mirror period hair!!
MY GOSH KOICHI YOU REALLY HEARD ME DIDN'T YOU?!?!
And your hair color is almost similar to mine *shy*
HAHAHA
Alright this random entry shall end here,
Will be working 12 hours tomorrow,
Wish me luck! T_____T
Love you guys!!!!
PS: Vanilla especially you!!! XD
Labels: Eliza, Endless SHOCK, Koichi, Thoughts, Work
blogged @ Sunday, May 16, 2010 11:07:00 PM