Dinner with the girls~
Yesterday I was supposed to go for work,
But at the last minute I had to go school for some enrollment stuff, so I couldn't make it for work..
After I did my enrollment stuffs I met up with Janice, Shuyan and Connie at Lot 1 for dinner~
It's been like months since I last met up with Janice and Shuyan and around 1 year since I last met Connie?
It's amazing how fast time flies when you are so caught up with your own life..
昨日はバイトあったけど、
急に学校へ行かなきゃ、バイト行かなかった。。
学校の用事終わったあと、JaniceとConnie一緒にLot 1へ晩御飯食べた~
久しぶりに会わなかったよ!!
JaniceとShuyanはたぶん3ヶ月会わなかった、そしてConnieはたぶん1年ぐらい会わなかった!
すごいでしょう!!何か時間すごく早く過ぎた! 
So ate dinner with them, and Shuyan joined us only at 9+
I bought my latest Ayumi's album!!!
Seriously I love the jacket cus it looks sooo cool~
Will talk about the album next time~
The songs are so beautifully sad, I love it! =X
そして晩御飯を食べて、9時でShuyanもついた~
あゆみ最近のアルバムも買ったよ!!
ジャケットはめっちゃ綺麗よ~~大好き!!
歌はすごく美しくて、すごく悲しくて、大好き!!!=X
So we went to Macdonalds and hung out until 11+
We talked about sooo many stuffs, and laughed a lot too~
I missed those times where we laughed like an idiot in our school canteen LOL
Davis and Shuhui!! I want to meet you guys soon!! T_____T
Shuyanついたあと、ずっと11時半まで、みんなMacdonaldsに居ました、
いっぱい事を話した、いっぱい笑った~
なんかこんな気持ちが懐かしい~~
むかし学校に一緒に笑った時思い出した~
その時なんか帰りたい~T___T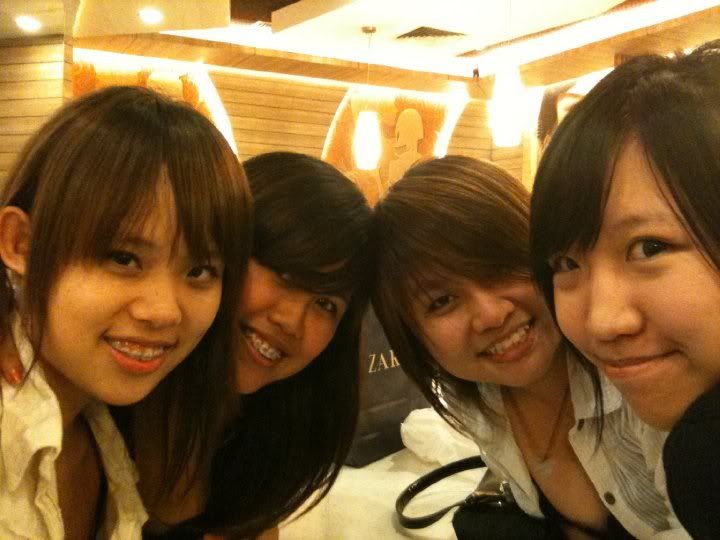 One of the many pictures we took that night~ ^^
Can't wait for next week when we'll be meeting again!! =DD
いっぱい取ったの写真の一枚~
来週また会う。。楽しみ!!
Oh~ I have been watching World Cup recently,
It's pretty amazing since this is actually the 1st time in my whole life I am actually watching the matches on a daily basis LOL
Somehow recently I realized how amazing certain soccer matches can be,
And how heart-breaking certain matches can be~
Maa~~ for now I guess I'll just enjoy the process of watching it ^^
ああ。。最近はワールドカップ見ているよ~~
何かすごいな。。だってこれは私初めてワールドカップこんなにフォロするよ~
この前のワールドカップは全然興味ないから~>。<
でも今毎日ワールドカップ見てる。。結構びっくりするよね。。=X
サッカー見たとき、選手は本当にすごいと思った。。
素晴らしい試合あるし、切ないの試合もある。。
時々見たら自分の心も結構つらいね~>。<
まあ。。楽しんでいいじゃん?^^
今から英語のヴァージオンはない~
ただ日本語で、
バイトの友達に読むさせたくないから~
でもバラバラと思うね。。日本語。。
今日は何か最悪の日だったな~
バイトのところついた時店長は居なかった~
他の同僚二人も来ないみたい、
店に急にすごく忙しくなった、めっちゃ大変だよ!
そして夜7時の時、
一人日本人の添乗員にすごく怒られた、
ずっと私に怒鳴りつける
その時私なにも言わなかった、けんかしたくないから、
でも30分あとその添乗員また店に帰った、
もう一度私に大きな声で怒鳴った!!
もう泣きたいよ~
セーラ:「お願いだから、そんな大きな声出さないでくれない?」
添乗員:「かまわないよ!だから今あやまれ!!」
セーラ:「分かった、ごめんなさい」
でもそのあとあいつまだやめなかった、ずっと私に怒鳴った、
なんやそれ?!?!
もうむかつく!!!
そして店長いないから、マネジャーが来た、
そしてまた私のせいっていわれました~
しんじらないよもう~~
本当にもう知らん~~
バイトはなんかもうやめたい~
でもお金の為にがんまんやらなきゃ~
だれかが力をあげてくれない?T___T
さあ。。もう寝ようか。。
おやすみ~~~
Labels: Janice, School, Shuyan, Thoughts, Work
blogged @ Friday, June 18, 2010 1:34:00 AM