Long long Saturday~
Had my Japanese exam yesterday,
Thought that the exam would be during the 2nd half of the lesson,
But turns out that because we still have lesson,
So the exam will be held during the 1st half,
And then lesson will resume in the 2nd half!!!
Uwaaa!!! Panic!!!!!!
Sensei next time please say earlier!!! Grrrrr
昨日日本語の試験がありました。。
試験はレッセンの後半だと思った、
でも試験の後レッセンは続けるから、
試験はレッセンの前半だった!!
うわああああ!!!!どうしよう!!!!!
先生!!!次早く言えよ!!!T____T
The exam was soooo difficult,
I can say that this is the 1st time where I took so long to finish the paper,
And I bet from now onwards I will be experiencing lots of difficulties =(
So exam ended and we had a break,
So I talked about the World Cup with Yiting and my other friend HAHA
HONDAAA!!!!! ♥♥♥
He is soooo cool la!!!!
Such a great player!!!!
Not forgetting about KAWASHIMAAAAA!!!!! ♥♥♥
Both of them are sooo amazing!!!
I just love goalkeepers and strikers!!!! XDD
I hope they will do well on this Tuesday's match!! T___T
Please...I want to see you guys play more!! XDD
試験はすごく難しかった!!!
試験やる時いっぱいところはあまり知らないね。。T___T
たぶんこれからも日本語はどんどん難しくなると思う。。やばい!>。<
そして試験は終わって、
友達とワルドカップの事を話してた~
本田△!!!!!♥♥♥
本田はめっちゃかっこよかったよ!!!
プレはすごく上手かった!!
そして、川島△!!!!!♥♥♥
二人は本当にすごかった!!
ストライカーとゴールキーパーが大好き!!^^
今度火曜日の試合が楽しみ!!!
また上手いのプレを出来たらいいと思う。。
お願い?>。<
日本チームの試合もっと見たいから!!T___T
So lesson resumed,
And sensei wanted to teach us the causative-passive form,
So he used Yiting and I as an example,
Saying that we were supposed to meet at 3 but one of us is late, hence making the other wait
"Sarah and Yiting were supposed to meet at 3pm, and Sarah reached at 2:45pm..."
He then traced off and turned to look at both of us,
And he went to erase what he wrote on the board and said
"Sorry..YITING reached the place at 2:45pm..and Sarah reached at 3:30pm instead.."
HAHAHAHA WHAT THE HELL!!!!! T_________T
SENSEI IS SO MEAN LA~~~~~~~ LOLOLOLOLOL
I know I am always late for class~ but still T____T
Stupid sensei always bully me~ LOLOLOLOLOL
そしてレッセン始まった、
先生は使役受身フォーム教えたい。。
そしてセーラとイティンで例えばをする。。
"セーラとイティン3時約束をあった。。そしてセーラは2時45分着いた。。"
そのとき、先生ちょっとためらった、
"ああ。。違う。。
イティン
は2時45分着いた。。そしてセーラは3時半着きました~"
なにこれ!!!!!!!!!!!T________T
先生はひどい!!!!!>=((((
HAHAHAHAHA
いつも遅刻するは分かってるけど。。先生はひどい!!>=((
Hahahahaha~
So class ended and I went to the airport to send my friend off
She will be going to Japan for 1 month for an exchange program~
Ahhh~ I am sooo gonna miss her so much =(((
そしてレッセン終わって、空港へ行った、友達を見送った~
1ヶ月ぐらい日本にいるね。。
絶対寂しくなる~T____T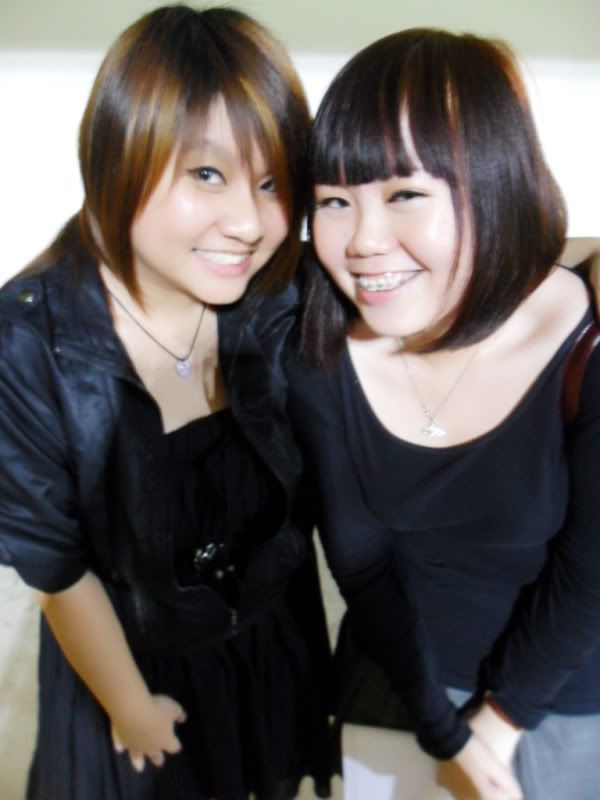 Hey girl~~
Even though I've known you for less than a year,
But I totally enjoyed hanging out with you~
Even though you always slap my leg when my sitting position is too ugly,
I know I am so gonna miss that during this one month
Please take good care ok?
And I will be looking forward to you coming back!!
Of course you will reach Singapore one day before me,
But well we can meet up afterwards!! XDDD
Love you~~ *hugs*
空港行ったとき。。
ゲートの前に立った。。
そして、君の事を思いました。。
君に見送らなかったね。。
もしあの時君に見送れば。。
きっと泣いてしまう。。
blogged @ Sunday, June 27, 2010 8:30:00 AM