川島永嗣!!!!!
UWAAAAAAA!!!!
UWAAAAAAA!!!
OH MY GOD!!!!!
Yes I am currently updating in class again but I CANNOT HELP IT!!!
うわあああ!!!
うわあああ!!!
すごい!!!!
そう!!また授業中で更新してる!
でもしょがない!!!
CAN YOU SEE IT!?!
KAWASHIMA'S NAME IS AT THE TOP OF THE LIST!!!
HE IS RANKED NO.1 GOALKEEPER IN THE WORLD CUP RANKING!!!!
OH MY GOSH HE IS SO AMAZING!!! XDDD
I knew I like the right guy!!! Muhahahahahahahaha!!
見えますか?????
ワルドカップランキングで
川島は1位のゴールキーパーです!!!!!!
まじすげやん!!!!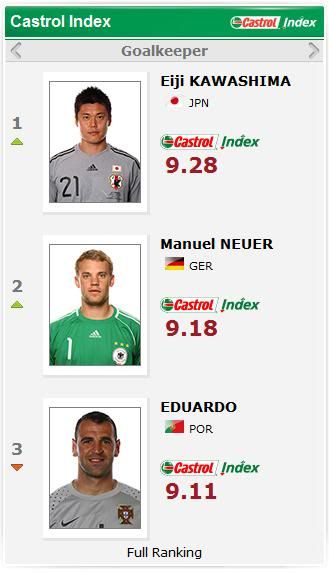 うわあ~~カッコイイ!!!!
Uwaaaaaaa kakkoii!!!!!!!
Recently I found Kawashima's blog,
And I have been going there everyday to check for his updates,
Based on what I read from his blog, he is currently in Belgium now
Seriously I don't really know much about Belgium
Asked Nao about the Belgium league, and Nao said it's not a very good league =(
I really hope that Kawashima can get to shine there!
And of course hopefully I can get to watch some of the matches too..
Looking at the way he typed that entry,
I can't help but worry about him..
I hope he's coping fine there though~
But since it's Kawashima I'm sure he'll be fine!!
And of course I'll continue to support him!! XDD
川島のブログから読んだ、
彼今ベルギーでいます。。
サッカーのことも頑張っている~
サポータの応援してくれたのことも感謝している。。
でもブログを読んだの瞬間、
何かちょっと不安。。ちょっと心配。。
うわああ。。大丈夫かな。。
まあ。。川島ならきっと大丈夫と思う!!
セーラもこれから川島のことを応援してあげる!!^^
川島のブログ読んだとき、
君の事また思っている。。
あなた今もサッカーで頑張っているかな。。
あまり無理しないでね~
そう~君の事全然忘れないよ
ここに。。ずっと応援してあげる。。
blogged @ Thursday, July 8, 2010 1:11:00 PM