谦变万化!!!
Ahhhhhh!!!!
I went to watch Lu Chen's performance yesterday!!!
And uwaaa it's sooooo great!!
My dear Lu Chen is still as cute as ever~~
Totally don't feel like he's already a 33 year old ossan XDDD
あああ!!!
昨日リューチェンの魔法ショー見に行きました!!!!!
めっちゃすごいわ!!!!
そshちえリューチェンは相変わらず。。ちょ可愛い!!!!
全然33歳のおじさんじゃない~~>。<
Hahahahaa well Singaporeans plainly sucked
They don't know when to clap,
Or rather they don't really clap when he did something amazing
I cheered sooo much that the people in front just turned around and stared at me
Like hello?!?!
YOU ARE SUPPOSED TO CHEER FOR HIM!!!
It's so stupid that Lu Chen himself have to get applause from us everytime he did a trick right!!
And when the performance ended..
THERE WAS NO SHOUT FOR ENCORE
CAN YOU BELIEVE IT!??!?!
Stupid stupid stupid Singaporeans!!!
Everyone just got up and left!!!
How insulting it is to a performer~~ ahhhh
そして。。シンガポール人は最低~~~~
拍手とかあまりやってないし。。
セーラいつも拍手とか。。Cheeringとかやるとき、前の人全部変な目をセーラに見てた。。
なんで?!?!!
リューチェンに応援するでしょう!!なんでなにもやらないの???
リューチェン自分でお客さんから拍手をお願いで、ばかばかし!!!
シンガポール人やっぱ最低!!
そして。。ショー終わったとき。。。
アンコールの叫びは全然ない!!!!!!
信じられない!!!!!!!!
シンガポール人は本当に本当にばか!!!!!!!
リューチェンはかわいそう。。T___T
I hope this wouldn't affect anything and Lu Chen please come back again next time!! T___T
なんか。。次リューチェンまだシンガポールに帰るかな。。
お願いだからまた帰ってね!!!!!T____T
So after the performance ended I lingered around and I saw fans who carried books wanting to get Lu Chen's signature,
So thinking I might have a chance to see him, just followed them =X
This crew person from China then asked us to record a video for Lu Chen, saying that Lu Chen will definitely watch it,
So if we have anything that we want to say, we can say it to the video
After recording the video, the crew say he will help us pass what we want to get signed to Lu Chen,
So I passed him my ticket stud, and tada!!!
ショー終わった後、私はまだ行ってない、そしてまわりファン達みんな本を持ってて、リューチェンのサインが欲しい。。
だからまさかリューチェンに会うのチャンスがあるかもしれないと思って、ファン達についていきました>。<
そして中国人のスタッフはみんなビデオカメラで、リューチェンに言いたいことを言って、そして帰ったらリューチェン絶対そのビデオを見るって。。
だからみんなもそうして。。みんなそのスタッフをサインが欲しいものを渡した、
セーラはショーもチケットを渡した。。そして。。ただ!!!!!!!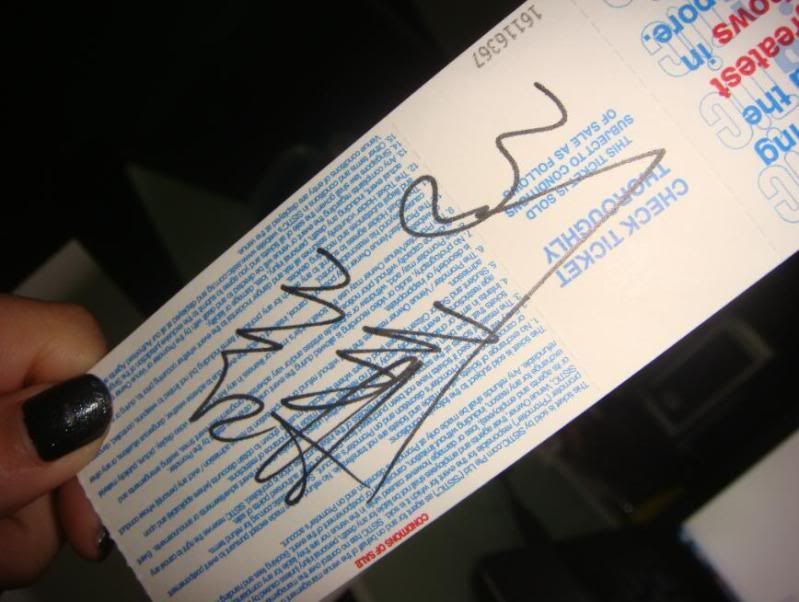 I GOT THE SIGNATURE!!!!!!!
UWAAAAAAAA SO HAPPY!!!!!!!!!!
But I want to slap myself for not bringing the 4 books that I have of Lu Chen
Didn't think that I would get a chance like that ma..
AAHHHHH T_____________T
サインをもらった!!!!!
あああああ!!!嬉しい!!!!!!
So after that I followed the group of fans to the back door and AHHH LU CHEN CAME OUT!!!!
It's like everyone just crowded around him (surprisingly a lot of guys HAHAHA) and asked for his signature and stuff,
And I tried to ask him to take a photograph with me but everyone just kept shoving in and I'm not aggressive enough =X
So I just stood at a close distance and kept snapping photos =XX
そのあとファン達と一緒にBackdoorを行った、そしてリューチェンが出てきました!!!
みんなすぐリューチェンの近くに行って、男は結構多いな。。びっくりしたよ!!!
セーラも写真撮りたいけど、でもチャンスは全然ない!!T____T
だからただ近くに居て、いっぱい写真を撮った!>。<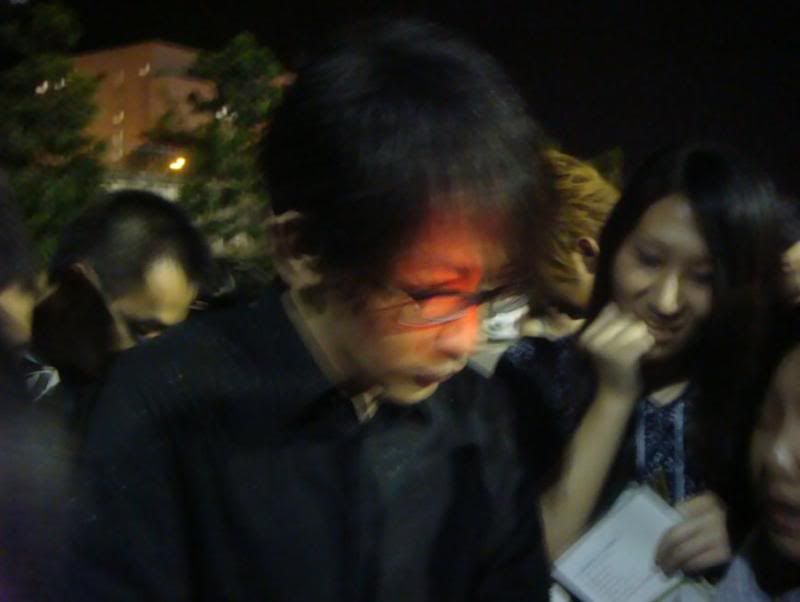 Hehehe the pictures are not that clear because stupid fanboys YES FANBOYS kept shoving me T____T
写真は結構微妙けど。。T____T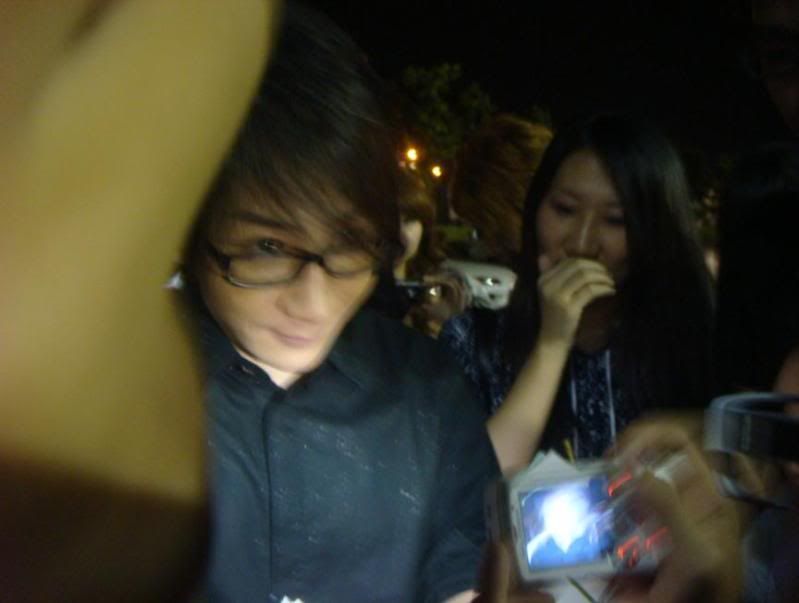 Ahhh this is so cuteeeee~~~
ああ。。これ可愛い~~~~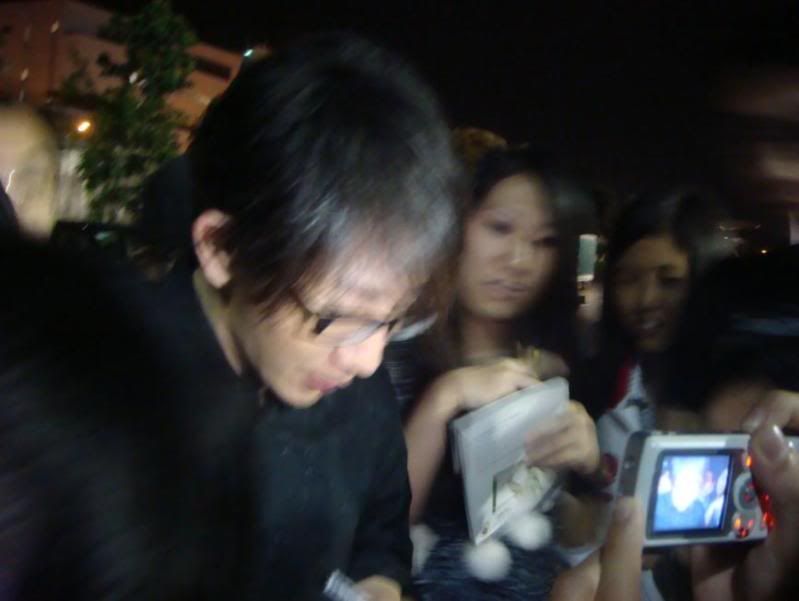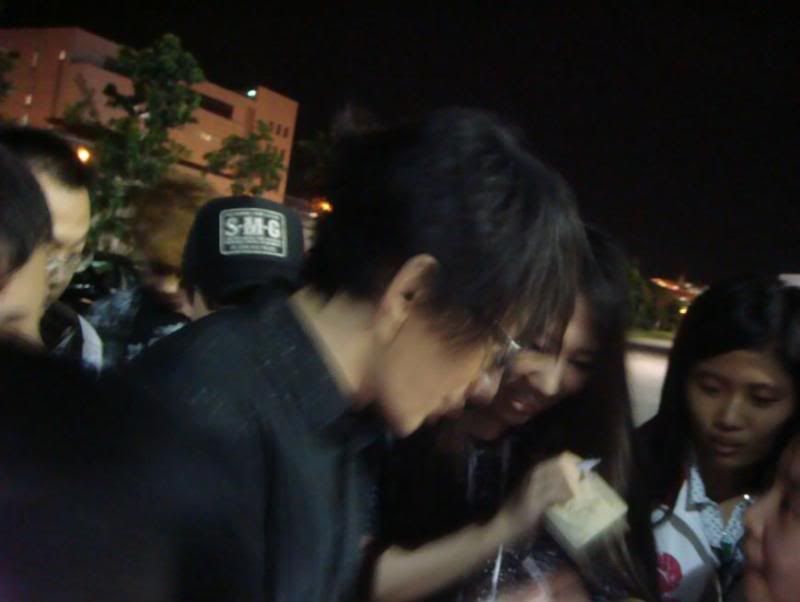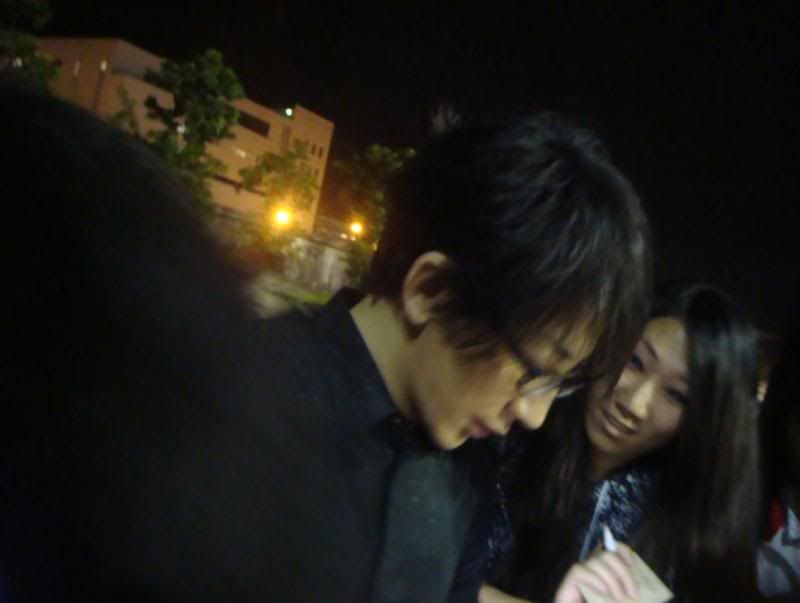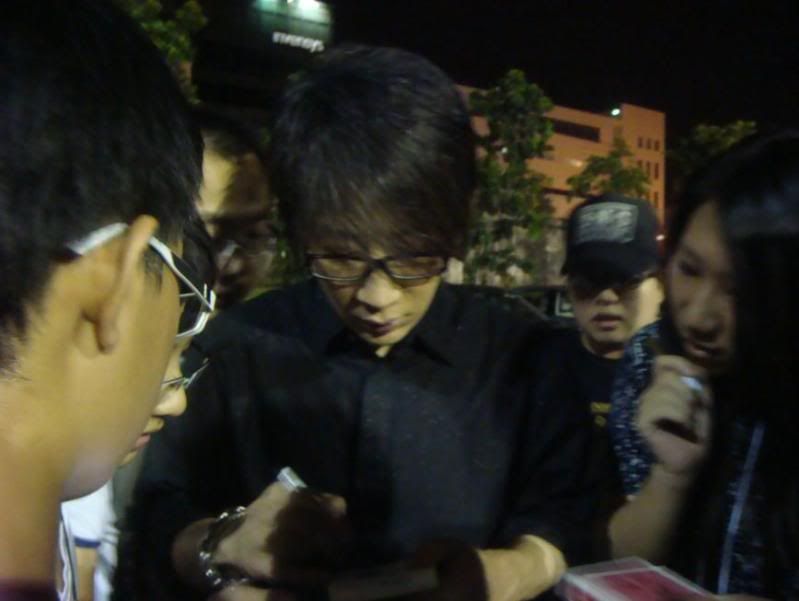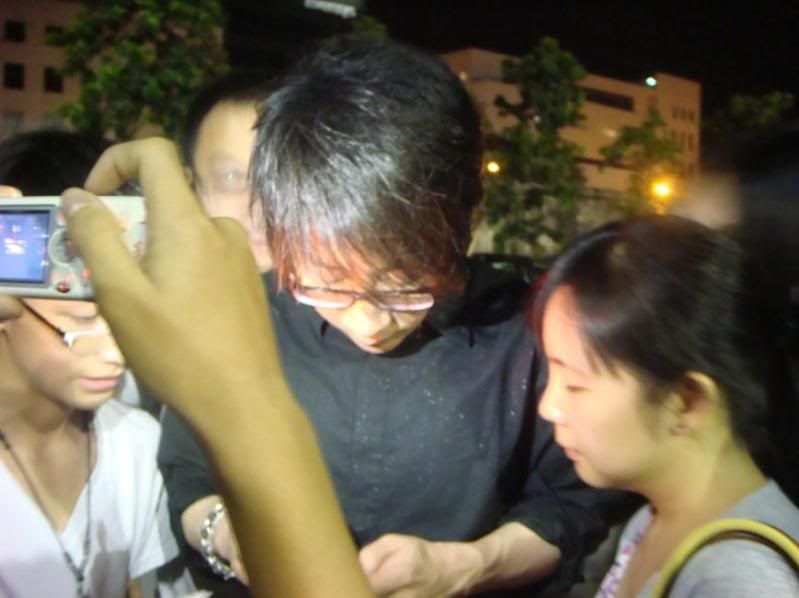 Ahhhhh~~~~ that close distance oh my goshhhh~~
And Lu Chen is sooo nice to his fans,
He's so patient and he doesn't even have the urgency to want to leave
It's the guards that kept shoving us away T____T
ああああ~~~その距離はめっちゃ近いな~~~!!!!
リューチェンはファン達にすごく優しくて、
早く帰りたいな感じ全然ない!!
優しい~~~T____T
Maa~~ this will be a very wonderful experience for me~~
Please Lu Chen!! Come to Singapore again!!
This time I will make sure I bring all my books T_____T
まあ。。これはいいおもいでね。。
リューチェン!!!お願い!!またシンガポールに来るね!!!!!^^
blogged @ Sunday, August 1, 2010 6:24:00 PM