優しい人
Hey guys~ I'm here again!! Hahaha
Yesterday while I was online in Skype,
Taka suddenly sent me a picture file from Skype
I was like ehhh?? What's that?
And when I opened the file, omggg
This is what I saw!!!!!
やーほ!!
また戻りました>< 
昨日スカイプに居たとき、いきなりたかから写真をもらいました
ええ?何の写真だろうと思って、ファイル開いた瞬間、
これを見た!!!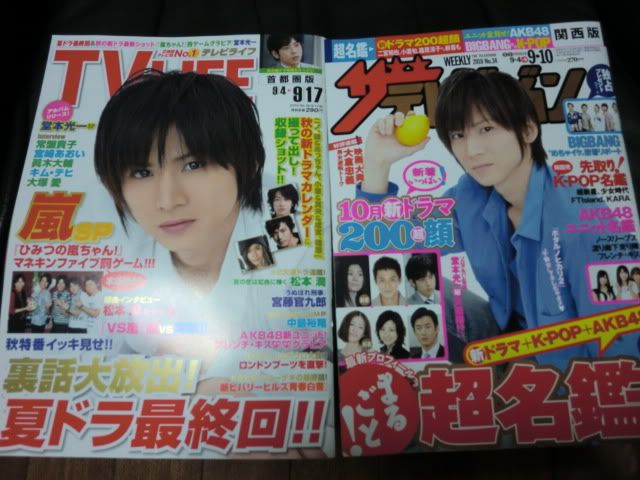 Waaaaa!!!! Koichi on cover for Shunkan the Television and TV LIFE!!!
うわああああ!!!!
光一の雑誌!!!*__*
Can you believe it? He specially took those pictures to show me~~
He said that there's a lot in his company so it received them too,
And when he comes to Singapore he will give them to me..
So nice right!!!!!! T_____T
Knowing that I like Koichi,
Every time when Taka sees Koichi's stuff or something,
He will show it to me or tell me about it..
How nice of him T__T
It's like when he sees Koichi he will think of me XD LOL
I'm so happy that he thinks of me when he sees Koichi LOL
It's ok even if I don't receive the magazine,
Just knowing that he did all these is more than enough ^^
彼は私のためわざと写真を撮って、
会社からもらったから、シンガポールに来たら持ってきて、
セーラにあげますって。。
優しい!!!T_____T
本当に優しいでしょう?
いつも光一と関係あるのもの見たらきっと私のことを思い出すし、
私に教えてくれるし。。本当にありがとう~~
本当に嬉しかったですよ!!
雑誌もらなくてもいい、ただ私のためわざと写真を撮って見せてくれて、これは十分です ^^
Someday I will definitely go and find you!!! Hahaha
Whether is it that you come to Singapore, or I go Nara,
I will make sure we meet one day!! ^^
いつか会いましょう!!
シンガポールとか。。関西とか。。きっと会いに行く!^^
Labels: Thoughts
blogged @ Tuesday, September 14, 2010 12:07:00 PM