Endless SHOCK 2011 webpage up!!!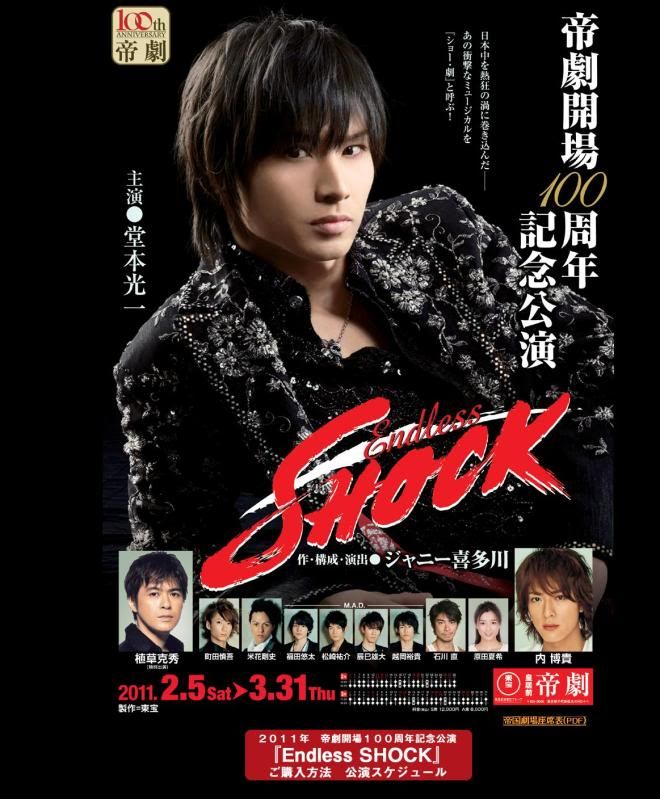 The original website
HERE
オリジナルサイトは
こちら
Uwaaaaa!!!! Koichi is soooooo kakkoii right?!?!?!
And the costume he's wearing, IT'S SOLITARY'S COSTUME!!!!
SO SO SO HANDSOME!!!! T_____T
And that stare, OH MY GOSH!! *faints*
And the necklace!!
Seeing him wear that necklace makes me happy cus I finally have that necklace too!!
MUHAHAHAHA =X
うわああああ!!!光ちゃんはめっちゃかっこいいでしょう!!!!
しかも、着てるの服はSolitaryの服じゃん!!!!!!
カッコイイ!!!!!
その視線も光ちゃんしかできないよね!!www
ネックレスも!!私も持ってるよ!!><
Next year will be Imperial Theater's 100th Anniversary!!!
Oh my gosh!!! HAHAHA
That's like 5 times my age ok!!! LOL
And next year's SHOCK will have a total of 76 performances,
And the casts will be the same for 2010 July's cast
The owner will be Uekusa and the rival will once again be Uchi
来年は帝国劇場の100周年だ!!
めっちゃすごいでしょう!!
私の年齢の5倍です!!www
来年のショックは全部76公演で、キャストも2010年7月のキャストと同じです
オナーは植草、そしてライバルはまた内くんです~~^^
Next year's SHOCK will be from February to end of March
But ahhhh I don't think I will be able to go T___T
Next year I'll be feeling sooo lonely T___T
"Loneliness just makes me confused" HAHAHA
Even if I work a lot and earn a lot of money,
I guess I still can't go since school will be tough around March =(
来年のショックは、2月から3月31日までかー
たぶん行けないと思うわ~~T___T
来年はきっと寂しい~T___T
もし一所懸命バイトやったら行けるかなー
あとで学校も、3月くらい多分厳しいかなー(;;)
Well in any case, KOICHI GANBATTE!!!!
I will still be supporting you in Singapore kays!! =D
I'm looking forward to the new changes that you will be making next year!! =D
まあ。。とりあえず光ちゃん頑張ってね!!!
またシンガポールに応援するよ!!!^^
来年新しいこともめっちゃ楽しみからね!!^^
And lastly, for those who wants the full size picture from the website,
You can download it
HERE
で、もしそのサイトの写真が欲しかったら、
ダウンロードリンクは
こちら
And so, bye bye!! ^^
では、バイバイ!!^^
Labels: Endless SHOCK, Koichi
blogged @ Thursday, November 4, 2010 12:42:00 PM