My dear dear Koichi T____T
Had Jen at my house yesterday
Before that Yiting called, and said that OMGOMGOMGOMG MY KOICHI IS HERE
DAMMIT DAMMIT DAMMIT
WHY WHY WHY
WHY CANT I MEET YITING T__________________________T
Hahahaha and she took a picture of my stuffs and posted it on her blog
HAHAHA
Well even though I know that the concert dvd selling in Singapore is Limited Ed
And I ordered the normal ed from CDJapan
I am still so so so satisfied by the regular ed cover!! OMG
This is the picture that Yiting took: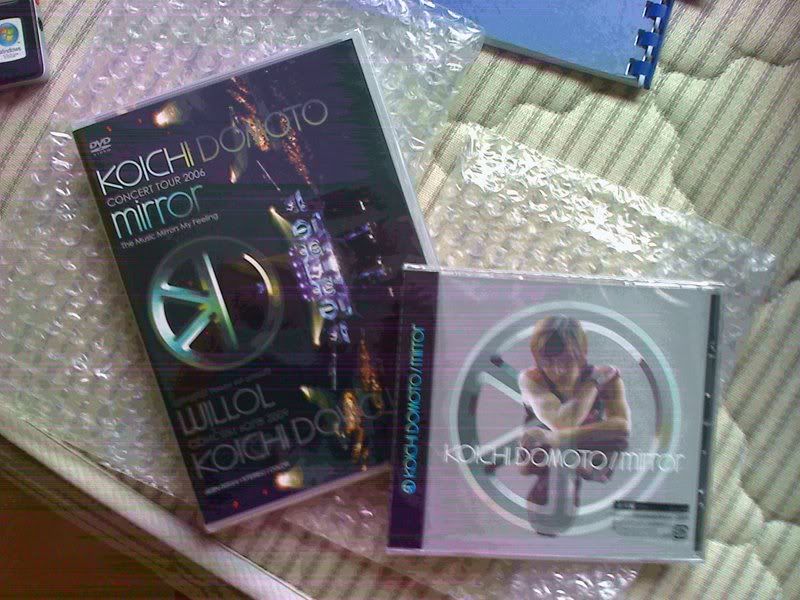 Desho?!?!
OMG Koichi really really knows how to attract me T___T
The BLACK DVD COVER with the big big DK logo OMG
Cannot take it
I....WANT....YOU....NOW!!!!!
HAHAHAHA
And the CD beside the DVD is Koichi's Mirror Album
As excepted, the DK logo is in GLASS FORM
OMG I LOVE ANYTHING THAT IS GLASSY ~.~
Hahahaha just cant cant cant wait for it!!!!
Hahaha alright shall scan the pictures in when I get them hehe
Oh ya and Jen came to slack at my house
Then I showed her my laminated sets of Koichi's magazine pages
Then she help me sort out in 2 piles
Handsome and not handsome HAHAHAHAHA
According to her some pics are nice some are not
Until now I havent went to see what are the pics that she like LOL
Shall do it later muhahaha
Then we watched Domoto Kyoudai
Hehehehe its so funny la
I watch dunno how many 100000x I still can laugh at the same things over and over again LOL
And I showed Jen their concert DVD LOL
Cus she wanna see them kiss HAHAHAHA
It was damm fun la~ haha
Hopefully she'll come my house again and watch hehe
Cus she say next time she wanna come and watch again
I hope it will be sometime soon hahahahaha
Alright this post shall end abruptly here.
PS: Ok la sorry I cannot resist the temptation to upload a picture T___T
Is this cute or cute omg T_____T HAHAHA
PPS: I just saw that on this picture, there's wordings on the top right hand corner, which says Yasashii na Jikan~ (Time of happiness)
Yeaaa seeing him smile like that really is Yasashii Jikan desu ne~~~~~

Labels: Jenmey, Koichi, Yiting
blogged @ Thursday, July 9, 2009 2:01:00 PM