春雷 - Shunrai (Spring thunder)
Wooo~~~
School has officially started
I cant believe how fast it has been
Today is already Wednesday, and tomorrow will be Thursday
And weekend will be here soon!! LOL
Talking about that,
My birthday is reaching soon~ *evil smile*
HAHAHA for those who wanna get me presents
But dont know what to get,
Just come and ask me or give me money to buy it
HAHAHAH kidding kidding~ lol
Anything you give will be fine,
If you dont give, also can
I'll forget you during christmas and your birthday
LOL I really love to play with this strike out thing~ hahaha
Anyway before I forget,
BAMBOOBRANCH I LOVE LOVE LOVE YOU!!!
For so so so many reasons
One of them is of course for loving me
HAHAHA
Of course for your subbed videos,
For fangirling with me,
Letting me know of download links which I dont know of,
And finally of course,
For helping me with translations for this song!!
For you guys' information,
The song that I am going to share now,
Is called Shunrai (Spring thunder)
And I translated this song myself,
But of course my Jap is not that good,
And at certain parts I got sooo confused,
And here comes Bamboobranch to the rescue! LOL
She literally just let me know the meaning of the verses
Or the line
So pro right!!
No wonder is subber T___T
I am still far far far from being there~ hahaha
So Bamboobranch, THANKS!
And this time I let you get on top of Koichi already HAHAHHA
OMG I know it sounds sooo wrong but why do I feel so good writing that down?!?!~.~
I need help HAHA
Ok erm anyways,
I recently fell in love with this song,
Its a bit metal, but yet gentle at the same time,
And it sounded sad
But somehow, whenever I'm inside the lecture theater now,
Waiting for lecture to start,
I will just feel the urge to want to listen to this song
Apart of Ayakashi of course, but that's obvious
And so I would like to share it with everyone
I also want to translate this song la,
Cus I wanna know what this song is singing about,
So might as well just post it here to share~ =D
I cant believe I'm flooding my blog with words yet AGAIN
Alright~~
春雷(Shunrai) - KinKi Kids
Ichimai no shashin ni utsuta
It was shown in one of the photographs
Kanojo wa naite ita
She was crying
Haru no arashi no naka de
Inside the spring's storm
Kanojo wa naite ita
She was crying
Shiranai
I didn't know
Machi no shiranai hito no sugata ni
The figures of all those strangers on the street
Kyuuni namida ga tomaranakunaru
Suddenly the tears can't be stopped
Mamotte agetai..naze?
I want to protect..why?
Shunrai ga ima made no boku wo kaete shimau darou
The spring thunder has probably changed me completely
Hito no tame? Iya boku no tame?
For the sake of people? No for the sake of myself?
Riyuu nante nai sa
What's the reason?
Ima, kimi ni ai ni yuku
Right now, I am going to see you
Sou kimeta yo
That's what I've decided
Guuzen te ni totta
By coincidence, I grabbed your hand
Shashin kara wa SOS
From the photograph is SOS
Hageshii arashi no soko de
At the bottom of the violent storm
Kanojo wa naiteita
She was crying
Sotsugyou wa katachi doori jyanaku te ii
It's alright even if graduation doesn't come as its shape
Ima no ippo o shinjite ireba
If you believe in each step now
Sorezore no graduation
It will respectively be graduation
Shunrai ga ima made no boku wo kaete shimau darou
The spring thunder has probably completely changed the me now
Koudou ga tadashii kadou ka nante
My behavior has definitely changed somewhat
Boku ni wa wakaranai
I myself don't know
Demo, kimi ni ai ni yuku
But, I will go see you
Sou kimeta yo
That's what I've decided
Shunrai ga kureta yuuki kara
Because the spring thunder has given me courage
Nani o mitsukeru no darou
It seems that I am able to find anything
Yuukan na yume jyanakute ii
It doesn't have to be a brave dream
Nanika ga kawareba ii
It doesn't matter if something is changed
Namida no itotatoreba
If I go after that thread of tear
Kitto mitsukaru sa
I will definitely find it
Dakara, kimi ni ai ni yuku
Hence, I am going to see you
Sou kimeta yo
That's what I've decided
Hahaha it's soooo nice right~~
Somehow this song gave me an anime feel also
And I can totally illustrate my own anime video in my brain using this song
HAHAHAHA
And then I get so high cus the video is too nice ~.~
I really need help HAHAHA
On the last note,
This is really really gorgeous~ haha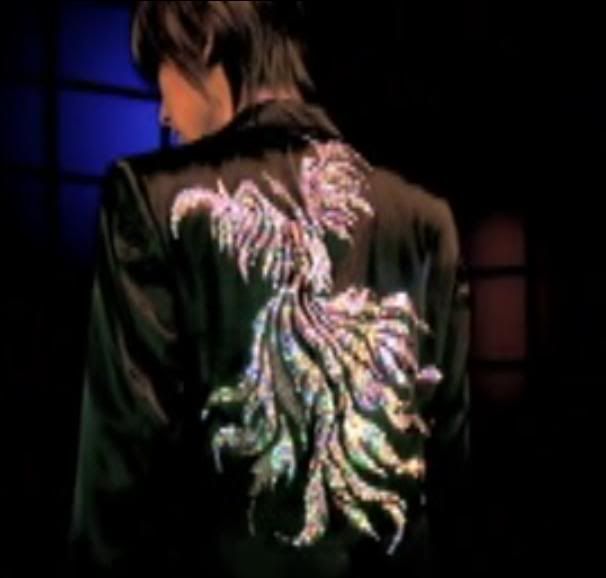 Labels: Bamboobranch, Kinki Kids, Lyrics: translations, School, Thoughts
blogged @ Wednesday, August 5, 2009 11:37:00 PM