Shiok~
Hahaha wow my title for every entry nowadays is getting shorter and shorter ~.~
Ok I'm actually supposed to be going out for class outing now~
With my JC classmates lol
Can't wait!!
Then why am I still blogging here omg????
Well yesterday after work I was sooo tired I only used like 2 hours of internet and I went straight off to sleep la~~
I can't believe it
I even accidentally overheard my dad from outside the room saying "Wow Yuanshan slept soo early tonight"
That's cus usually I'm always the last to sleep, but this time I'm actually the 1st to sleep LOLOL
Ok just want to show you guys that I changed my desktop wallpaper already!!! =DDD
No more Koichi T_______T
And say Hi to....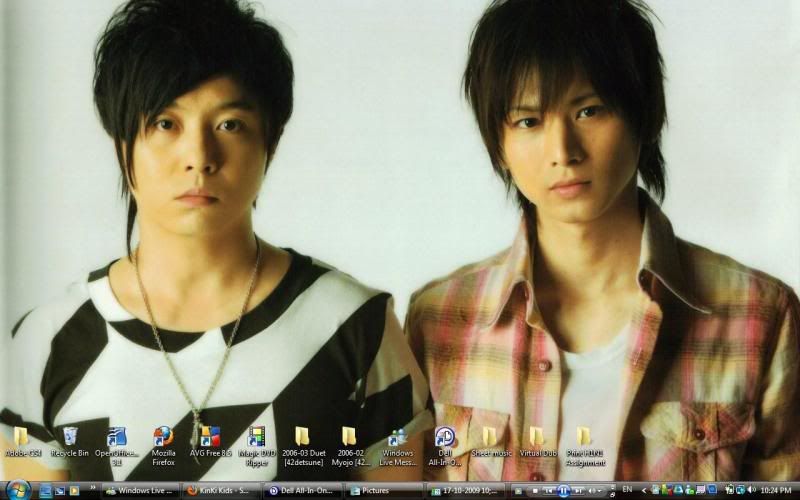 KINKI KIDS!!!! =DDDD
Oh my goodness this looks nice hor~~
Koichi looks good~
Tsuyo doesnt look that bad~
And Koichi's neck still looks soooo delicious =XX
I think I'm having a breakthrough because this is the 1st time,
I actually used a KinKi Wallpaper HAHAHAHAHA
Don't hit me T___T
Haha alright alright and one more thing
Next week I was supposed to only work on weekends~
But somehow I gave in to temptation,
And offered to help out since they didn't have enough people
So OMG I HAVE 41 HOURS OF WORK NEXT WEEK!!!
I'll be working on Wed, Thur, Fri, Sat and Sun OMGOMGOMGOMGOMG
I know I know it sucks, it will be sooo tiring,
Not to mention I only have like ONE uniform ONLY
T____T
But on the bright side,
My next paycheck will be FAT FAT FAT FAT FAT
WOOOOOOOOOO
I WILL HAVE MONEY TO PAY OFF YITING, AND HAVE MONEY FOR MY CONCERT GOODS!!
AND THE NEW RELEASE THAT KINKI KIDS WILL BE HAVING SOON!!
AND OMGOMG KOCHAN'S NEW ALBUM!!!
COME TO ME MONEY COME TO ME!!!!
=XX
Ok I'm really going mad~~
And argh this sucks because I feel that I'm having a stomachache
As in like a baad baad stomachache
SINCE WEDNESDAY NIGHT
It really sucks~~
I keep having diarrhoea also
T______T
Hope it will be fine soon~~
Alright signing off~~
Vanilla I guess I won't have time to reply you that soon na`~
Gomen gomen T___T
*hugs*
Labels: Kinki Kids, Thoughts, Vanilla, Work, Yiting
blogged @ Sunday, October 18, 2009 11:57:00 AM