Ovation Look at Star 2010!!
Yay~~~~ Finally I am posting the pictures for Ovation Look at Star 2010!!
As usual Koichi is on cover!!!
Oh my as I am typing this I cannot help but feel excited for my Best Stage Koichi cover and 16 page feature of Koichi in Look at Star!!!!
Not to mention he will be on cover for Theater Guide too!!!!!!
My my I am getting soooooo many Koichi uwaaa
But somehow no matter what happens it just feel like it's not enough
Everyone has been sooo quiet lately that I can finish what I want to do within minutes upon on-ing the computer hahaha
Sucks man~~~
Maa 2 more weeks to official opening of Endless SHOCK
I'm sure right now Koichi is not sleeping na~
Even though it's already 2.30am in Japan,
I'm sure if I called him now he'd probably be up doing something (like cleaning his room etc. )
HAHAHA
The rehearsals are going on as well~
I hope he takes good care of his body too~ T____T
Koichi!! I miss you soooo much!! T_____T
I can't wait to see you in July!! Hahaha
Alright scans scans! =D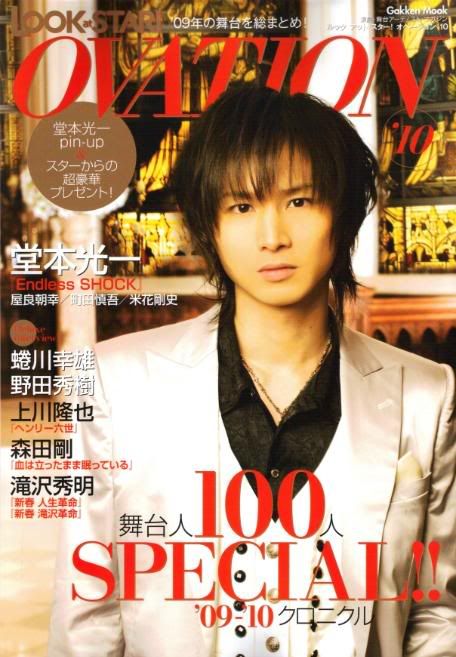 The oh so beautiful cover~~~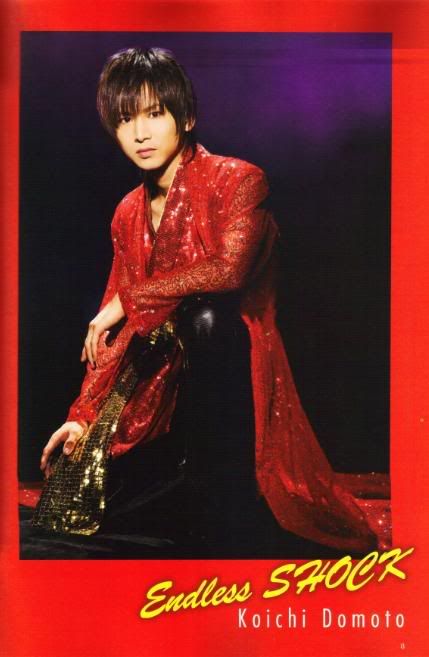 YORU NO UMI!!!!!
I was like banging my head against the wall when I found out that this picture was inside Best Stage Jan (I think?) issue which I didn't buy because there were only two pages,
And guess what? Koichi loves me and gave this beautiful picture (in a much much bigger size too!!) in this beautiful magazine too!!
Uwaaa I love Koichi!!!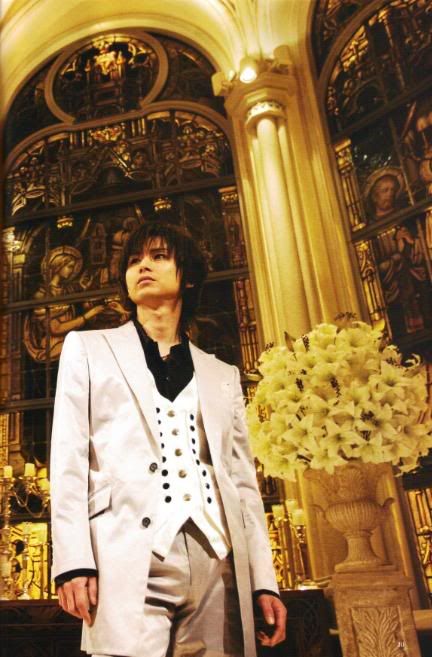 *faints*
So beautiful~~~ even the cathedral too~~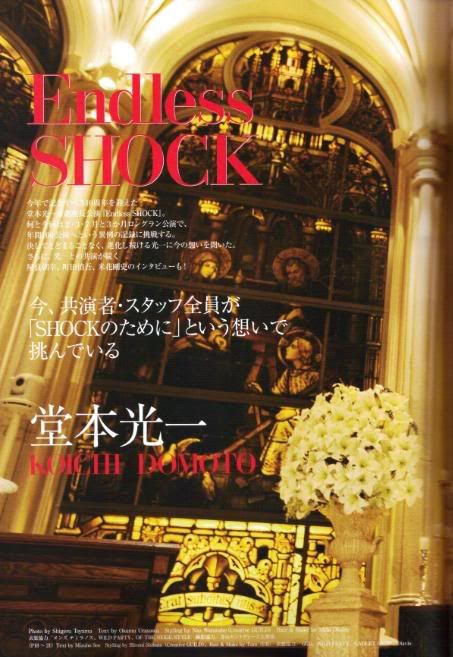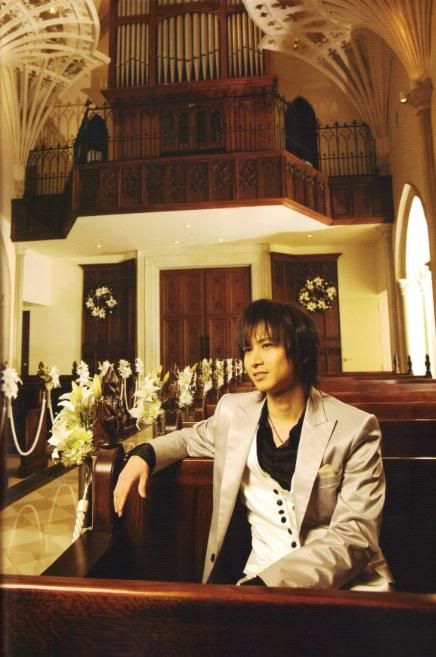 Yess this is the picture that is currently my wallie now~ =DD
And wow~~ this makes my heart melt soooo much!!! T__________T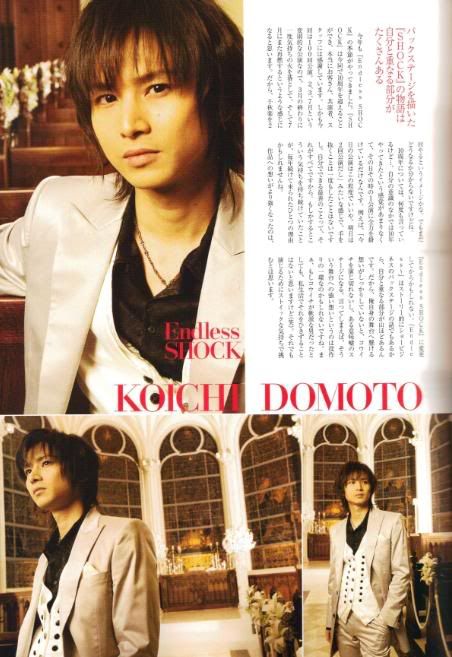 So many Koichi in suits T___T

Zoom in!! =D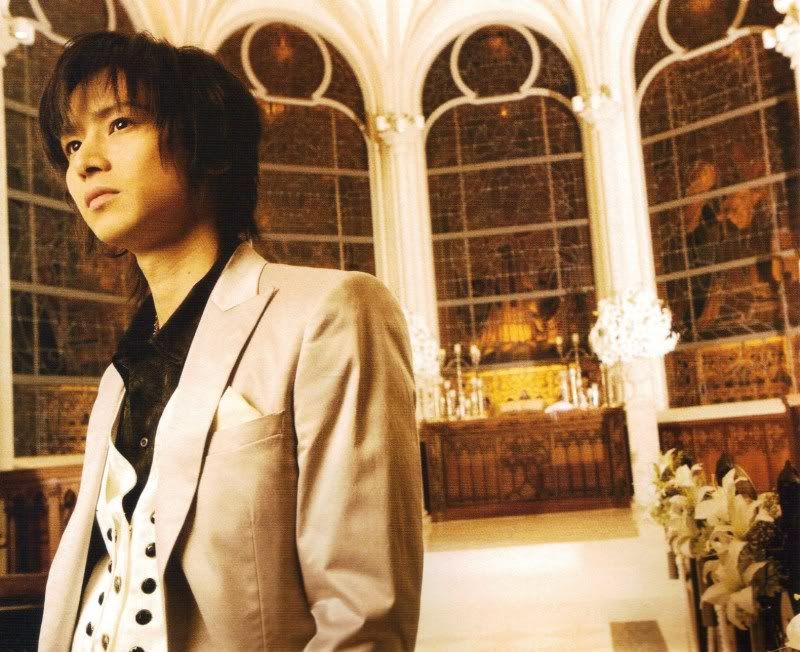 His face is so nice!! T_____T
I mean his cheek bone is sooo nice =X





Nothing to say~
Unless you can find a word to describe "UWAAAAAAAHHHHHHHHHHHHHHHHH!!!!!!!!"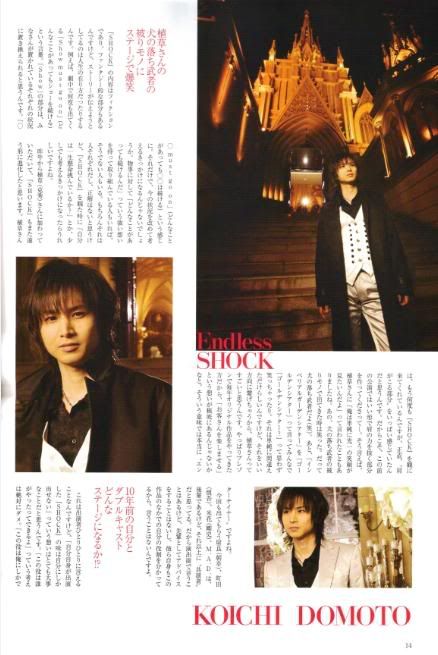 OMG look at the cathedral!!
It's sooo beautiful!!!
I must make sure I go there when I'm in Japan!!!!

Zoom in!! =D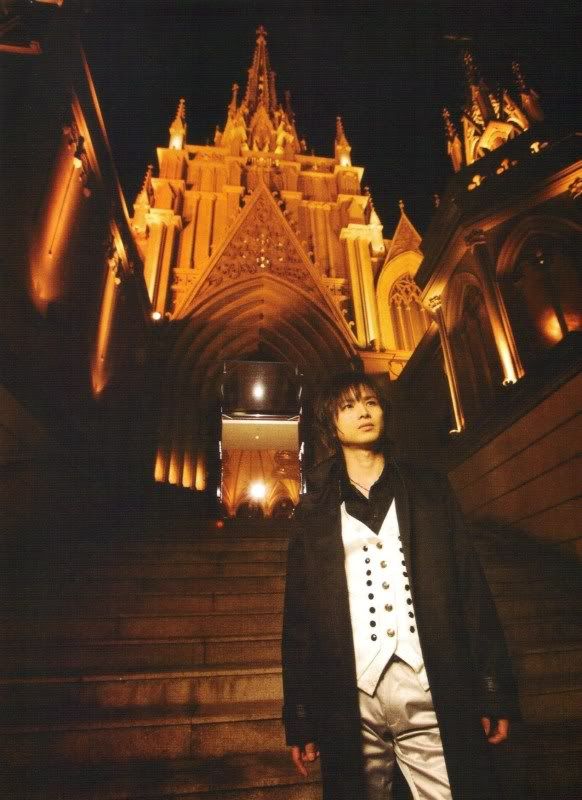 Nice nice nice nice nice!!!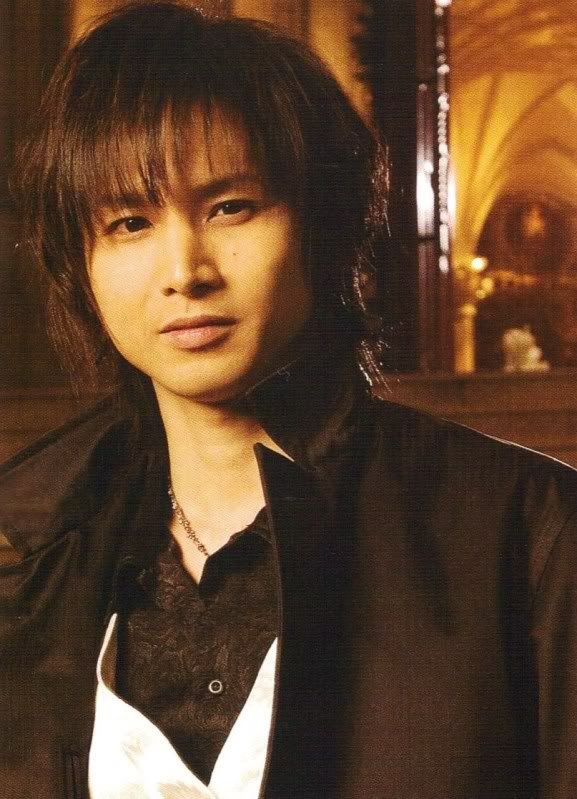 Hahaha I love his face =X
LOLOL that subtle smile is so cute!





This is nice nice nice nice nice!!!
I wanted to make this as my wallpaper but well sadly the picture is too small =(
Why why WHY let this picture be sooo small T____T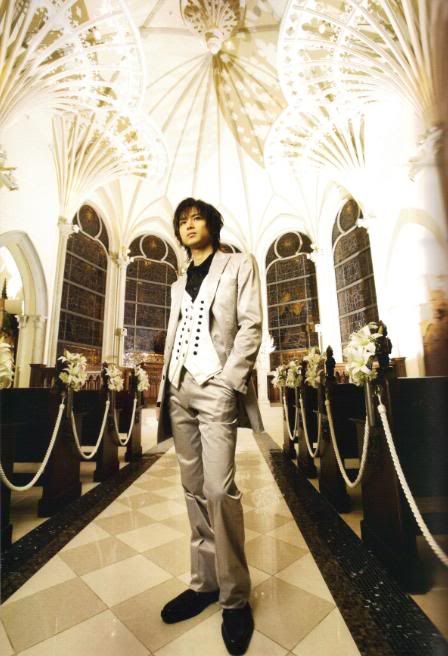 Ahhhhhh~~~
My prince~~~
My groom T______________________T
I hope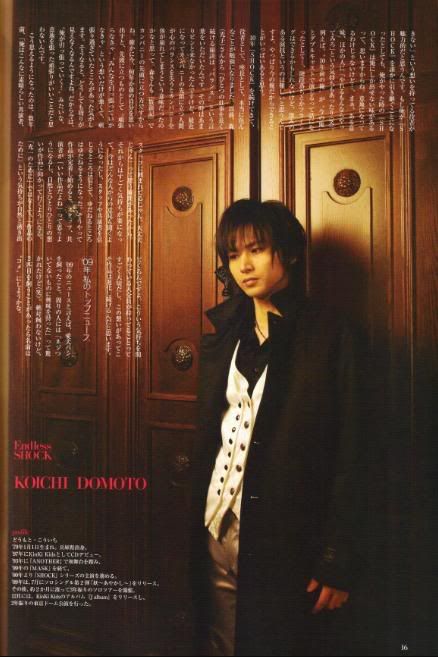 Change of clothes~ hahahaha
But still nice!!!
One day I am so gonna force myself to read the whole interview T___T





Waaaa and he stares at you T_____T


And here comes the journey of SHOCK




LOL I swear one day I'll buy up all of SHOCK's pamphlets! hahaha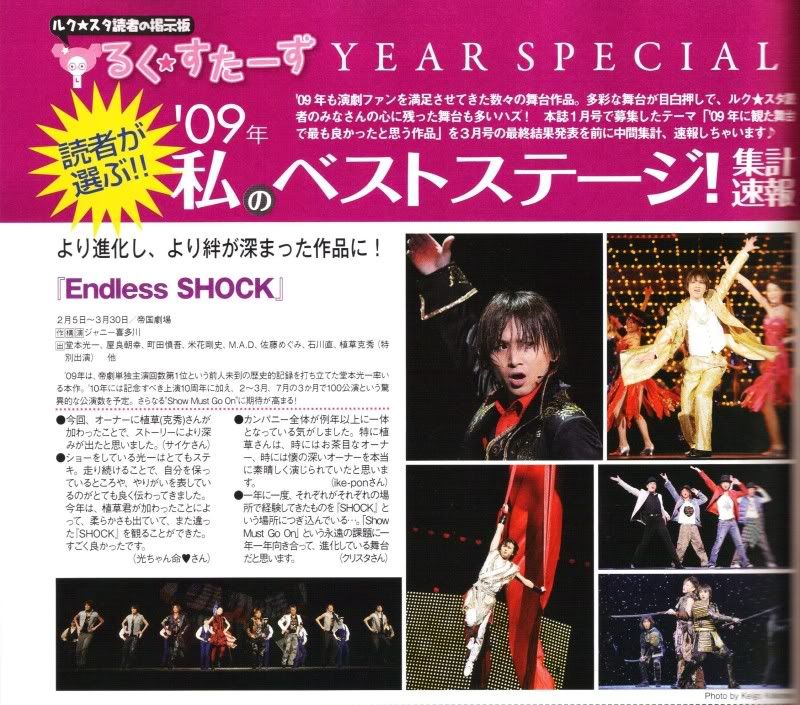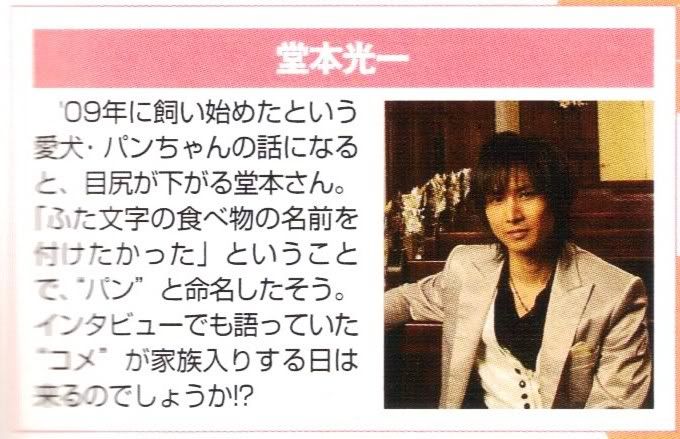 And a backstage talk with Koichi =D
And our dear boy starts talking about PAN again~
How cute is that??
Hahaha


And last but not least,
The beautiful pin up that Meiyan has joined for me =DD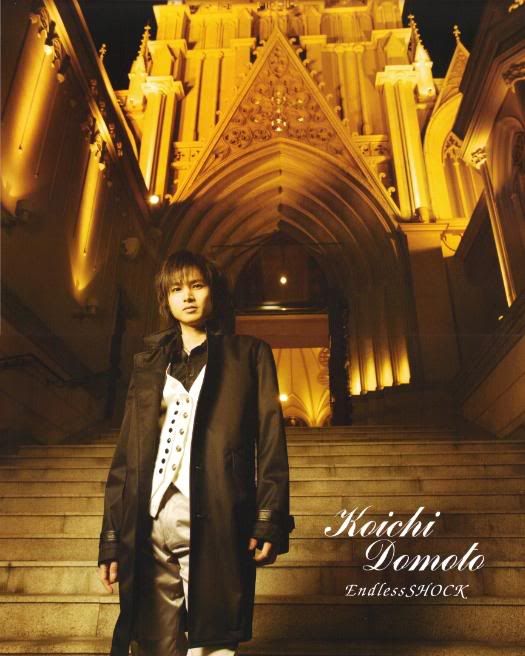 So nice!!!
Talking about both Koichi and the cathedral =X
Hehehehe

Alright that's all~
For full sized scans click HERE


Haha another sidenote,
My sister told me something today~
Well somehow my name is like a forbidden word to say in that so call ex's presence haha
Maa I guess that's how it is isn't it?
Does it hurt?
Nah~ not really
It's not like I don't know what kind of person you're like anyways~



It's just that hearing something like that just made me feel much much worst about guys




And once again,




Thank you so much for dropping my confidence in guys by another 100%




All I can say is you're the worst =)




Those years are totally not something that I want to remember at all




Even though you did let me know one friend who made me watch a Nagase drama and got me watching SDK




Apart from that I can say I have gotten nothing from you at all




Consider this the last time I will ever mention you in my blog =)




And in my life as well =)



Weeeeee~~ dreamt of Meiyan last night
LOLOLOLOLOL
Well weird dream
Shan't go into details since I can't remember it at all
I remember Vanilla telling me something like wouldn't it be nice if there were an invention where we can record our dreams HAHAHAHA!!
I wish na~~ then I can see Koichi on and on and on =X LOL

Well in my dream I remember I was feeling sad and lost
And lonely I guess
Somehow when I joined a group of friends (whom I totally don't know btw, never seen them in real life before lol)
Within that crowd, I saw Meiyan standing beside me!
I was soooo happy when I saw her
Like you know the feeling when you're so alone and so sad and then suddenly you see someone that you know and is quite close with around you?
It's like the feeling of "oh~~ I guess I could feel much better knowing that he/she is around me"
That's the exact feeling that I had in my dream
And I couldnt stop poking her face in my dream
I was seriously happy~ LOLOLOL

I guess that dream kind of speaks about my life now?
Haha ever since I got into Uni I haven't really spoken to many people too~
The usual people I have conversation with is Meiyan, Yitng, Eliza and sometimes Kristy haha
You think that's a lot? lol
Well apart from these four if I don't talk to them I almost can say that I have no one else =)
Maaaa I don't know where I am going talking about this too~ haha
But I guess when KinKi is quiet, I tend to get a little emotional haha

I just wanna say this to all my friends:



It's hard isn't it?




Assignments everyday~ Schoolwork piling up




Exams coming..Readings to complete




It's not easy for me too~




But hang in there!!




It will definitely be over soon~~




And we know that after that KinKi/Gazette will be waiting ^^




We can fangirl all we want after that (even though we are already doing that now)




Even for my overseas friends




If you are reading this




Work seems to be getting tougher for some of you na~




And Gally seems to fall sick again T_____T




I know somehow even though we don't chat much




But there's always something that will connect us together isn't it?




Bamboobranch too~~~ Having such a hard time with her school work





Seeing the situation now,




I missed those days before I started University,




Where everyone always chatted and fangirled together




Hahaha I hope those days will come again soon~~




I am waiting too...




Gambatte!!! =D



Labels: Bamboobranch, Eliza, Emily, Endless SHOCK, Gally, Koichi, Meiyan, Scans: Magazines, Thoughts, Vanilla, Yiting
blogged @ Sunday, January 31, 2010 1:18:00 AM